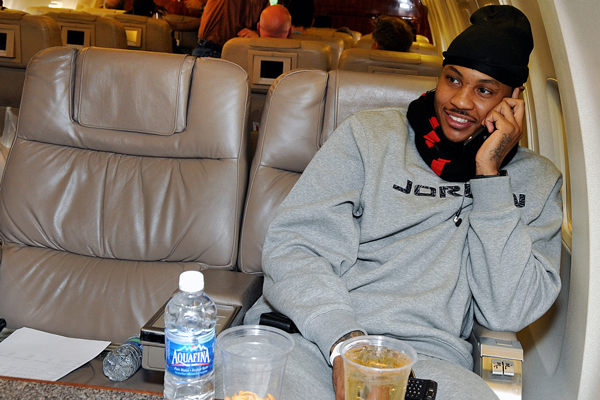 Carmelo Anthony is a member of the Atlanta Hawks, kind of, but not really.
The Oklahoma City Thunder sent Melo and a 2022 protected first-rounder to Atlanta in exchange for Dennis Schroder and Mike Muscala, who will be sent to the Philadelphia 76ers for Timothe Luwawu-Cabarrot, according to ESPN.com's Adrian Wojnarowski. Anthony will promptly be waived by the Hawks, which will free him up to join whichever team he chooses.
And that team is going to be the Houston Rockets, because as NBA.com's David Aldridge notes, that's what Melo has already told people:
It should surprise no one that @carmeloanthony has been telling people for more than a week that he'll ultimately wind up with the Rockets, per league source.

— David Aldridge (@daldridgetnt) July 19, 2018
There will be skeptics of Anthony joining Houston. That's fine. And understandable. The Rockets lost two of their most valuable defenders, Luc Mbah a Moute and Trevor Ariza, in free agency and Melo doesn't do anything to help them at the less glamorous end.
More than that, the offensive fit could get weird. Not only did Carmelo have issues with Rockets head coach Mike D'Antoni during their brief stint together with the New York Knicks, but he'll be expected to assume a role similar to the one he played in Oklahoma City. He won't have free rein in isolation; there will be opportunities, particularly with Houston emphasizing more one-on-one play during the Chris Paul era, but Anthony will have to knock down standstill looks, probably set screens and even act as the pick-and-roll diver more.
To be sure, this role could suit Anthony—if he lets it. He never fully embraced it in Oklahoma City.  Not really. He said the right things, and he mostly did the right things, but he never fully bought in. Perhaps things will be different in Houston, alongside a friend like Chris Paul. Maybe it won't. Either way, it sounds like we're about to find out.