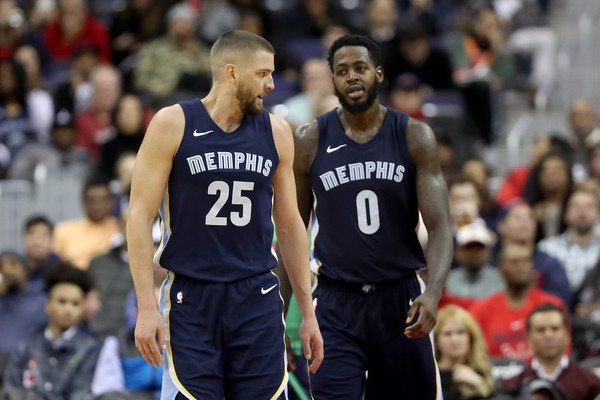 The Memphis Grizzlies might be willing to trade out of the fourth-overall pick in this year's NBA draft—provided, it seems, they get rid of Chandler Parsons' deal in the process.
From The Athletic's Michael Scotto:
The Memphis Grizzlies have gauged the trade market on a package of Chandler Parsons and the No. 4 overall pick, league sources told The Athletic.

Parsons, who has missed 94 combined games over the past two seasons, is owed $49.2 million guaranteed over the next two seasons.
Stomaching the final $49.2 million of Parsons' deal is a huge ask for any team. But the No. 4 pick falls into something of a uniquely valuable sweet spot during this year's prospect pageant.
Luka Doncic has tumbled down most mock drafts in recent months, so the former near-consensus No. 1 pick should still be available. If he's not, Jaren Jackson Jr. is expected to be around by that point, and many have him pegged as the second-best player in the entire class. If there's a team that's interested in beginning a rebuild, it might be able to talk itself into scooping up this selection while swallowing Parsons. Two years is an eternity in the NBA, but it's reasonable length to squads who won't plan on contending as they embrace a reset.
Granted, no team is getting the No. 4 pick purely as a Parsons buffer. The Grizzlies would hold onto the selection without even thinking if that's all they find out there. They need a few things in return as well. Remember, they'd be forfeiting the right, in all likelihood, to draft Doncic.
The Los Angeles Clippers are the most popular theoretical trade partner at the moment, because they have the means and motive to build something like this:
??|
??|
??|
??|
??|
??|
??|
??|
??|
??|
??|
??|
??| _
??| •.•) Grizzlies: Tobias, Bevs,
??|?? Dekker, No. 12/13
??| Clippers: Parsons, No. 4

— Dan Favale (@danfavale) June 14, 2018
Sub out Patrick Beverley for Wesley Johnson, and the Grizzlies probably still say yes. Just some food for thought.
Overall, though, we should expect the Grizzlies to hang onto No. 4. They're hardly secure enough in their ability to evade a rebuild themselves to jettison such a valuable building block.