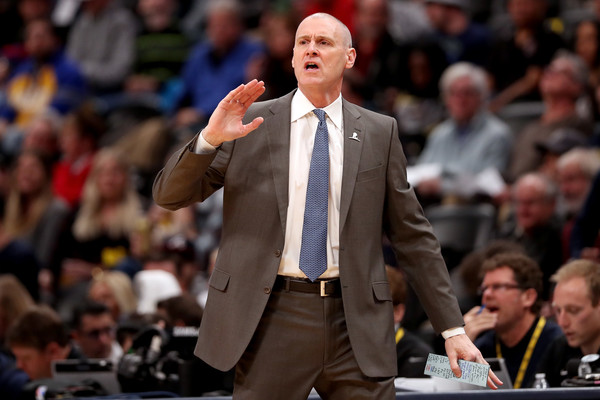 Dallas Mavericks head coach Rick Carlisle wants you to know he has no interest in becoming the next head coach of the Milwaukee Bucks.
Speaking on 105.7FM The Fan earlier this week, the Racine Journal Times' Gery Woelfel loosely linked Carlisle to Milwaukee's ongoing search for a Jason Kidd/Joe Prunty successor:
.@GeryWoelfel – "The hottest name that nobody has talked about is Rick Carlisle…The word going around is that he is interested in the #Bucks job and if that's true it would be a no-brainer. As far as front-runners though, I'm hearing Mike Budenholzer and Monty Williams."

— 105.7FM The FAN (@1057FMTheFan) May 8, 2018
This report was apparently strong enough to warrant a reaction from Carlisle himself. He vehemently denied said interest, per The New York Times' Marc Stein:
Rick Carlisle just issued the following statement: "Rumors that I have interest in the Milwaukee Bucks' job are completely inaccurate. I work for Mark Cuban and the Dallas Mavericks."

This is Carlisle's response to a report out of Milwaukee this week which intimated that Carlisle had interest in pursuing the Bucks' coaching vacancy
This feels ludicrous on some level. Rick Carlisle has been manning the Mavericks since 2008-09 and has a championship ring on his resume (2011). He's the closest any coach in the NBA comes to rivaling Gregg Popovich's job security with the San Antonio Spurs.
Still, Carlisle is a veteran sideline-wanderer at this point. And the Mavericks are gearing up for what could be a longer rebuild. He might feel his services are better plied on a team with more immediate aspirations. That mindset is not unheard of, even for beloved coaches. Doc Rivers is with the Los Angeles Clippers now in large part because because he didn't want to guide the Boston Celtics through an extensive reclamation project.
Granted, there are differences. The Celtics seemed like they wanted to move on as well. The Mavericks have yet to give a similar sign they might be ready to swap out head coaches. And Carlisle's swift(ish) reaction to this report suggests that won't be happening anytime soon—or, at the very least, not this summer.