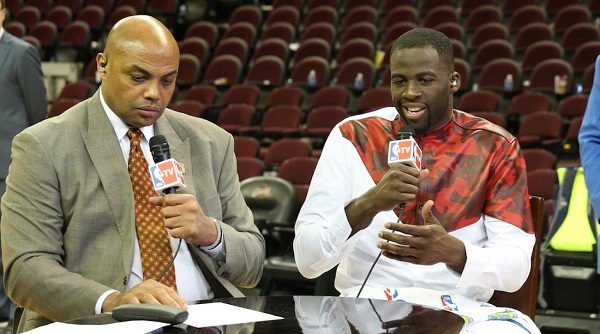 Two of the most outspoken and controversial players in NBA history are officially beefing and it is everything you would expect.
Draymond was being Draymond on Tuesday night in the Warriors 116-111 win in Game 2 of the western conference semifinal series against the Pelicans, getting into it with Rajon Rondo multiple times and getting tangled up with Anthony Davis.
Green's tactics have drew the ire of Charles Barkley who did not hold back in his reaction to Green's behavior…
Charles Barkley wants to punch @Money23Green in the face. ? pic.twitter.com/ANp5NmxIqs

— Warriors Talk (@JaeAzizi) May 2, 2018
Draymond Green didn't back down of course and simultaneously shut it down while adding a little fuel to the fire…
Draymond Green with a strong response to Charles Barkley saying he would punch him in the face pic.twitter.com/tBLRAei3zW

— Anthony Slater (@anthonyVslater) May 2, 2018
If this beef were to persist throughout the playoffs and into next season, I could absolutely see some sort of challenge between the two or ridiculous sumo wrestling stunt or something for fun at all-star weekend in 2019.
One can only hope.