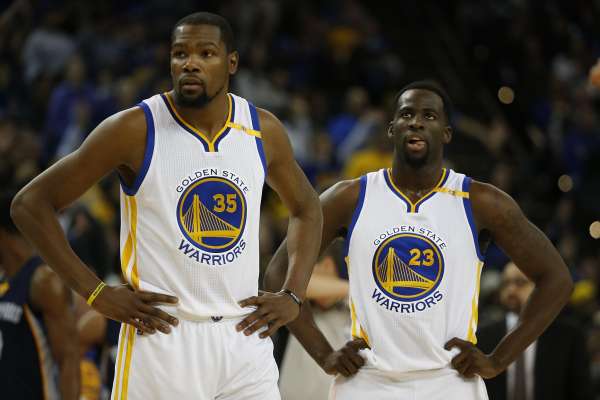 By suspending Draymond Green for their game against the Atlanta Hawks on Tuesday night, the Golden State Warriors may have thought they were putting an end to his Monday dustup with Kevin Durant.
If so, they were wrong.
Suspending Green, without pay, has only intensified speculation surrounding the Warriors' future—from their title chances, to Durant's impending free agency, to Green's own foray onto the open market tentatively scheduled for 2020. And while it's clear where management, or at the very least where head coach Steve Kerr, lands in this debacle, the players seem split on the incident.
Consider this from The Athletic's Marcus Thompson:
Management is holding fast to its stance that Green crossed a line that can't be crossed. Some say it's just "Draymond being Draymond." At least two said he did go too far, attacking his teammate personally. One player was even concerned that Green may have lost his authority in the locker room, the berating was so over-the-top.

"With what was said, there is already no way Durant is coming back," one player said. "The only hope is that they can say this summer, 'See, KD. We've got your back. We protected you from Draymond.' "
This sounds about par for the course in this situation. Every player will have separate allies in every situation. But the Warriors' core predates Durant's arrival. A handful of them no doubt have an allegiance to Green, even if his reaction to Monday's incident was over the top.
All of which makes this situation interesting to monitor moving forward. Maybe it won't have long-term repercussions, but it could. And if Green is rattled enough, he could request a trade over the summer or plan to leave in 2020. Should that happen, there's a real chance Golden State loses both of its starts by the 2020-21 season…if not sooner.