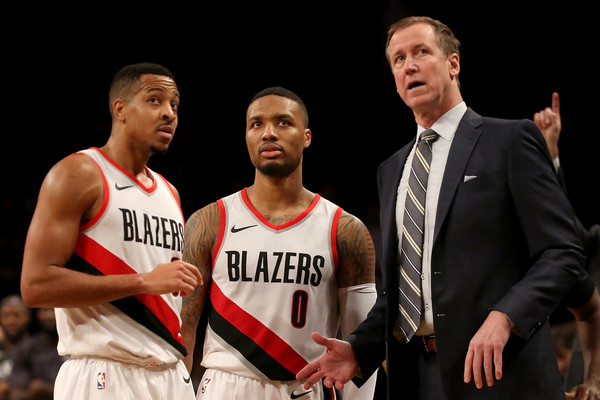 The Portland Trail Blazers have some changes to make over the offseason.
Firing head coach Terry Stotts, however, doesn't appear to be one of them.
Though speculation to the contrary cropped up immediately after the Blazers were swept in the first round by the New Orleans Pelicans, The New York Times' Marc Stein brings word in his latest mailbag that the team's head honcho for the past six years should be safe (via Blazers Edge's Peter Sampson):
Throughout the Blazers' first-round sweep by New Orleans, there were rumblings around the league that Stotts' job was in jeopardy and that teams such as Orlando and Phoenix were ready to pounce if he indeed became available. But that talk has largely quieted since Portland's early exit.

The latest word in coaching circles is that the Blazers prefer to keep Stotts heading into the final year of his contract — as they should. (I would argue Stotts should be up for an extension, but perhaps that's a topic for a future Corner Three.)

There's a reason Stotts is wildly popular with actual Blazers fans beyond his whole "PhotoStotts" alter ego. It's largely because he's gotten the most out of pretty much every roster he's had there, particularly in the three seasons since LaMarcus Aldridge defected to San Antonio in free agency in the summer of 2015.
Keeping Stotts makes sense. The Blazers aren't suffering from a stale voice. They're enduring a lack of appreciable talent infusion. Stotts coached last year's same team to a third-place finish in the Western Conference this season. Only three games separated them from the ninth-place Denver Nuggets, but getting that No. 3 spot is no small task.
Plus, Stotts' defensive system is a winner. It almost doesn't matter who the personnel in the middle is anymore. They do a good job chasing people off the three-point line, and allowing bigs to remain rather stationary around the rim. That, coupled with Damian Lillard's own defensive improvement, makes for a good system.
Really, the Blazers need a different look on the depth chart without knifing into the Lillard-CJ McCollum backcourt. That's the challenge they're tasked with this summer, and it may be impossible given their cap situation. But that doesn't mean they should sub out Stotts just to make some kind of change. They shouldn't. And, at least for now, it doesn't seem like they will.