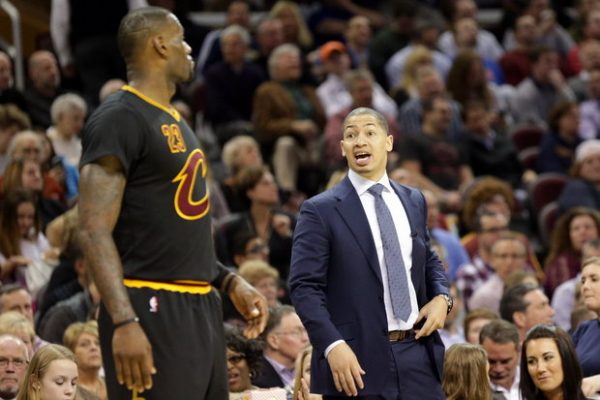 LeBron James scored the Cleveland Cavaliers' first 16 points and outscored the Indiana Pacers on his own in the opening frame to kick off his team's Game 2 victory on Wednesday.
It was all downhill from there.
Despite leading by as many as 18 points and entering the second quarter with a 15-point advantage, the Cavaliers just barely edged out the Pacers, 100-97. They were outscored by 12 points over the final three periods, including a minus-11 when Victor Oladipo was on the floor.
Had someone told you beforehand LeBron would go for 46 points, 12 rebounds, five assists and two steals while committing only three turnovers, you would have expected the Cavaliers to win going away. But no. They let the Pacers back into it, in part because their defense still stinks, and also because James didn't receive enough help from his supporting cast. And head coach Tyronn Lue wants that to change, per ESPN.com's Dave McMenamin:
"I need to see more out of a lot of guys," Lue said in his postgame news conference.

The remark came in response to a question about Cavs guard Rodney Hood's contribution. Hood scored nine points in Game 1, but five of those didn't come until the fourth quarter of Cleveland's 98-80 loss, with the game already out of reach.
Lue isn't wrong. No one else on the Cavaliers made more than five shots, and it was Kevin Love, who posted a 5-of-16 clip. Kyle Korver was third on the team in made field goals with four, while Rodney Hood—now the proud father of twins—only attempted five total shots. George Hill took three shots in just over 20 minutes.
That can't happen. LeBron, at the very least, needs his second in command to make more of his looks. But that may get a lot more difficult from here. Love injured his left thumb late in Game 2, and his status for Game 3 is uncertain. At least with him, the Cavaliers have someone they know will take shots. If he's not ready to rock, or if he's limited in any way, they'll need some combination of Hill, Hood and Jordan Clarkson to shoulder a heavier workload.
Heck, they'll need those three to do more regardless.