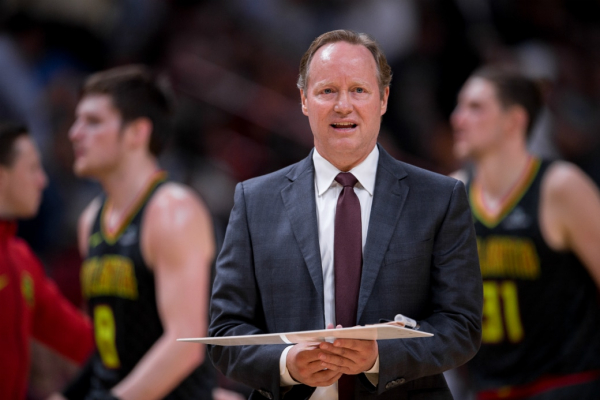 Mike Budenholzer will not be the next head coach of the Phoenix Suns.
That this was even a remote possibility remains somewhat surprising. Budenholzer already has a gig with the Atlanta Hawks, and while the new front office regime inherited him, seldom do you see gainfully employed head coaches being granted permission to hold court with other teams. But that's just what the Hawks did for Budenholzer, presumably not wanting to foot the bill for the final two years left on his contract.
However, according to ESPN.com's Adrian Wojnarowski, Atlanta will still be on the hook for Bud's salary. He has officially withdrawn his name from the Suns' search, leaving Phoenix to pore over its other top candidates:
After several days of discussions, Atlanta Hawks coach Mike Budenholzer is no longer considering the chance to become Phoenix Suns' next coach, league sources told ESPN.

Budenholzer met with Suns general manager Ryan McDonough and owner Robert Sarver early this week, but there was never traction on reaching a contract agreement as the week wore on, league sources said.

As the Suns kept interviewing candidates — including David Fizdale and interim coach Jay Triano — Budenholzer informed the Suns on Thursday that he would no longer be a candidate for the job, sources said.
Budenholzer could have pulled the plug on his candidacy any number of reasons. Maybe the Suns wanted him to take a pay cut. Maybe they wouldn't grant him power over certain personnel decisions.
Given the timing, though, this reeks of Budenholzer not wanting to be just another candidate. He already has a job, and if he wasn't the Suns' top choice, he runs the risk of being passed over and having to rejoin Atlanta. That doesn't make for the best look. At least this way he somewhat gets to stick with the Hawks on his own terms.