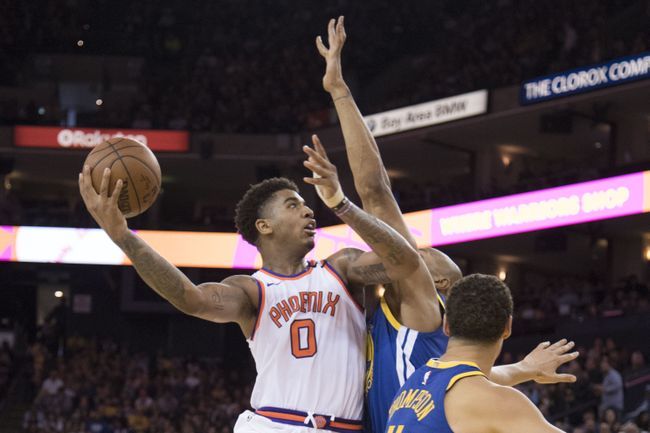 The race to the bottom for the 2017-18 NBA season has officially been decided and the Phoenix Suns are now guaranteed the league's worst record and highest odds at winning the No.1 pick in the 2018 NBA Draft lottery.
This became official Sunday as the Grizzlies won their 22nd game of the season, 130-117 over the Detroit Pistons and the Suns lost their 61st game of the season, 117-100 at home vs. the Warriors.
The NBA can try to deter teams from tanking or ignore the fact that it is happening, but it is clear that there were definitely a number of teams who were controlling the situation on a nightly basis as much as they can to lose as many games as they can to help ensure themselves a higher pick in what is projecting to be a special draft class.
The Suns have won two of their last 28 games, and after having a record of 16-25 at the midway point (which would trend out to be a 32-50 season), they have managed to go 4-36 in their last 40 games.
The Suns, like many other NBA franchises, are aware that with the way the current system is set up and the fact that the NBA is a star driven league it is almost impossible to win consistently at a high level without one.
The most probable way to be able to acquire a star player and have him be around for a while is through the top of the NBA Draft. Few superstars ever become available through trade or free agency and they typically go to places with other elite talent in place, not the sort of teams that are hanging around the bottom of the NBA standings.
The Suns are hoping they can land their first No. 1 pick in their 50-year franchise history, something that would be fitting considering the fact that 50 years ago in their expansion season they lost a coin flip to the other expansion team, the Milwaukee Bucks, for the No. 1 pick and the opportunity to draft Kareem Abdul-Jabbar.
Suns fans are dreaming of another potential stud at the center position suiting up in purple and orange next season, DeAndre Ayton.