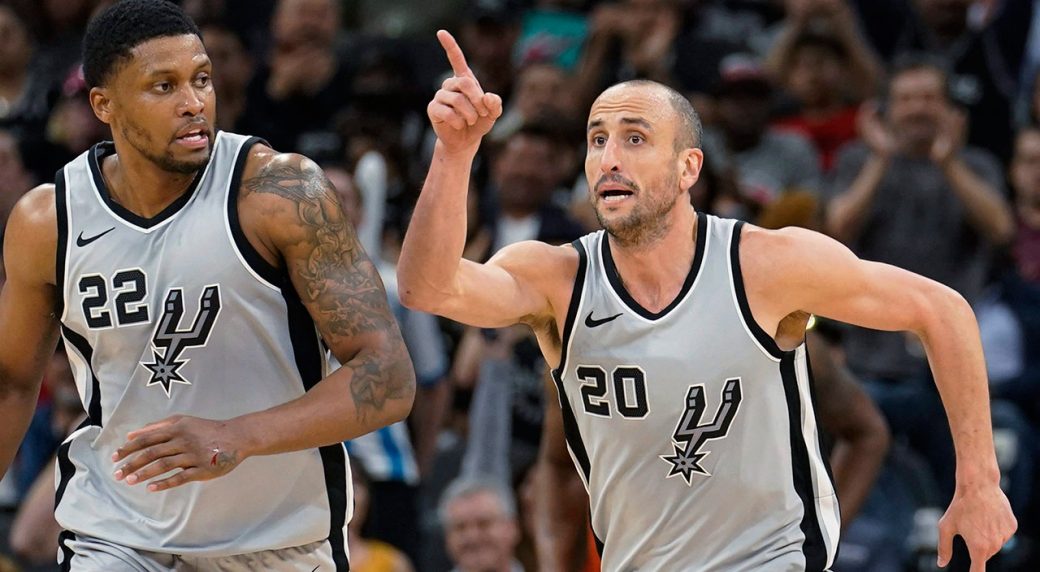 Thank the basketball gods for Rudy Gay. Seriously. Do it. He just gave us one of the greatest off-beat quotes in NBA history.
The San Antonio Spurs clinched a playoff berth with a victory over the Sacramento Kings on Monday night. Their effort wasn't the best at times; they spent a good deal of the early going playing from behind. But Ginobili, at age freaking 40, went for 17 points, six rebounds and five assists in 27 minutes of action, joining Gay to set the tone for San Antonio's comeback.
Gay was understandably impressed after the fact—so much so he'd like Manu's blood to be pumped through his own veins, per Project Spurs' Paul Garcia:
"I need to get a blood transfusion with his blood," said Rudy Gay of Manu Ginobili's spectacular play even at age 40.

"He's one of the smartest player's I've ever played with."

— Paul Garcia (@PaulGarciaNBA) April 10, 2018
Once more: This is, low-key, among the best obscure quotes of all time. Appreciate it. Adore it. Screenshot it, print it out, frame it and hang it on your wall. It's that good.
It's also that accurate.
Ginobili hasn't been the most efficient player for the Spurs this season. But there have been times when he's helped keep them afloat with his play off the bench. Though he's shooting just 33.5 percent from beyond the arc, he's hitting almost 64 percent of his looks at the rim, according to Basketball-Reference—a more-than-solid-mark for someone his age. He's also fourth on the team in assists per 36 minutes.
Even head coach Gregg Popovich was left smitten by Ginobili's Monday night efforts:
"Bryn was great off the bench," said Pop. "Manu was wonderful."

"They deserve a lot of credit," said Pop of the Spurs making the playoffs despite all their setbacks this season.

— Paul Garcia (@PaulGarciaNBA) April 10, 2018
Pop doesn't hand out compliments willy nilly, so this means something. It means a whole lot, actually.
Ginobili isn't going to single-handedly win the Spurs a playoff series. But if they're going to make it out of the first round or leave any sort of dent whatsoever without Kawhi Leonard, they'll need the occasional detonation from players other than LaMarcus Aldridge. Ginobili is a part of their committee of options; he has the potential to go off for spurts at a time. That he can still turn in a trademark performance of someone much younger than himself all these years later is absolutely incredible.
Gay should absolutely go ahead and schedule that blood transfusion.