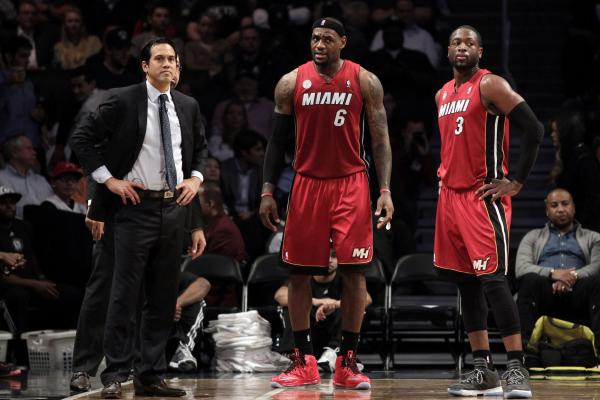 LeBron James and Erik Spoelstra seemed to, for the most part, get along well enough during their time together with the Miami Heat. But if the former had his way in the early going of his arrival, the two never would have gotten the chance to mesh.
Heat president Pat Riley said as much in Ian Thomsen's latest book The Soul of Basketball.  ESPN's Jackie MacMullan relayed a handful of anecdotes to us, the most noteworthy of which centers on an awkward meeting between Riley, James, Chris Bosh and Dwyane Wade in the first part of their inaugural season together, when the team was under .500.
James, apparently, tried getting Riley to take over for Spo on the sidelines—something the Big Three as a collective asked him to do before they ever put pen to paper on their formation:
They just said, 'We're not feeling it,' or something like that," Riley told Thomsen, via MacMullan. "We talked about the typical things that we have to do, have patience and all of that stuff.

"And I remember LeBron looking at me, and he said, 'Don't you ever get the itch?' I said, 'The itch for what?' He said, 'The itch to coach again?' I said, 'No, I don't have the itch.' He didn't ask any more questions, and I didn't offer any more answers. But I know what it meant, and I always go back and wonder about what he was thinking at that time. He walked out scratching his leg like it was itching."

Riley said to Thomsen that similar questions were raised during the team's July 2010 free-agent recruiting pitch to LeBron.

"They wanted to know what was going to happen with Erik," Riley said. "They wondered if I was going to be coaching. I said, 'Look, Erik is the head coach, that's it. I support him. I'm not interested in coaching.'
This is pretty wild from Wade's perspective more than that of Bosh or James. They were new to the party. They were leaving familiar digs. It would make sense they'd request to put a marquee face to their all-timer formation.
Wade, however, had spent two seasons playing for Spo by that point. And the two had worked together, in some capacity, since Wade entered the league; Spo has been with the Heat organization since 1997-98.
For Wade to even hint at a change feels like an act of betrayal now, after the two championships and four NBA Finals appearances this group collected. Back then, though, he was probably just trying to make sure his superstar friends were ready to abandon their current ships and join him in South Beach, no matter the collateral damage.