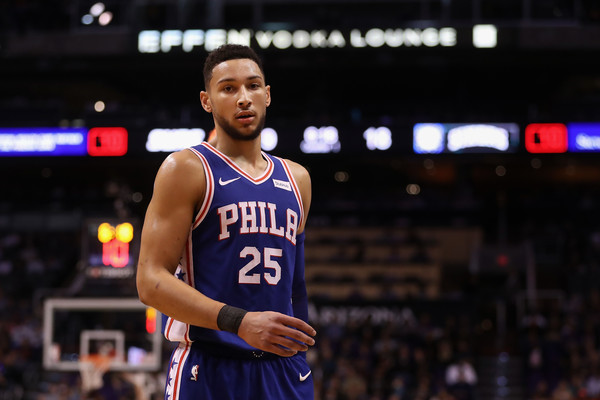 Sorry, Donovan Mitchell. Ben Simmons doesn't think you have a legitimate chance of winning Rookie of the Year.
Nor does he seem impressed by you at all.
Consider what the Philadelphia 76ers newbie told ESPN.com's Chris Haynes:
"Who would I pick? Me, 100 percent," Simmons told ESPN at the Ritz-Carlton in downtown Philadelphia on Saturday.

"I think I have been playing solid all year," he continued. "If you look at the numbers, you will see. People who know the game know."
Nothing truly incandescent here. Professional athletes are super confident. Ben Simmons is no different. Move along with your day. Really nothing to see here.
This quote, however, has been rubbing some people the wrong way (also via Haynes):
When the 6-foot-10 point guard was told the Rookie of the Year race appears to be a two-man show, he buried his head down and proceeded to chuckle. Asked what rookies have caught his attention this year, he didn't mince words.

"None," Simmons responded promptly. "I want to be where the greats are. So, for me, I watch the guys like [Kevin Durant], [LeBron James], [Stephen] Curry, Russell [Westbrook]. Guys like that. That's where I want to be. I think for me, that's what I love to watch."
Okay, yeah, this is a little more inflammatory. Then again, it really isn't.
Simmons has been on the record as saying he's trying to catch the all-time greats for a while now. That he hasn't been paying attention to the league's other kiddies isn't surprising.
Does this come across as semi-disrespectful to Donovan Mitchell? Sure. But let's also remember the 2017 rookie class isn't technically chock full of Simmons' peers. He came in with the 2016 and missed all of last season. That's a whole other issue altogether, as some don't think Simmons should be considered a rookie, even after not taking the floor in 2016-17. But it could account for why he doesn't loop himself into this year's pool of first years.
Even if it doesn't, this isn't something to get all amped up about. He probably should have verbally dapped Mitchell, who has a legitimate, albeit slightly weaker, case for Rookie of the Year. He didn't. That happens.