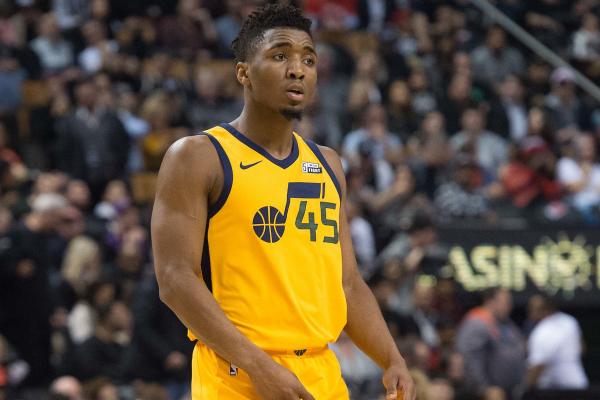 Utah Jazz general manager Dennis Lindsey badly wanted to make sure Donovan Mitchell would still be on the board when his team was on the clock, at No. 13, during last year's draft.
How badly?
So badly, he apparently threatened to fire anyone who leaked any details of Mitchell's pre-draft workout, and how well it went.
ESPN's Fran Fraschilla tweeted the following after Mitchell went for 28 points during Utah's Game 2 victory over the Oklahoma City Thunder on Wednesday night:
After @spidadmitchell workout for @utahjazz, GM Dennis Lindsey threatened every Jazz scout at workout with firing if they leaked out how well it went. (Or story goes.) What a steal! https://t.co/ky9lh1TEEb

— Fran Fraschilla (@franfraschilla) April 19, 2018
Inflamatory? Exaggerated? Flat-out untrue?
Nope. Not quite.
David Locke, radio voice of the Jazz, confirmed Fraschilla's tweet:
Story is true. Spent the next month of my life wishing I had never gone to that workout https://t.co/A3eORLjIF3

— David Locke (@Lockedonsports) April 19, 2018
This is hysterical. And perhaps it's a little overblown. Details of draft workouts leak all the time. No way, no how, is Lindsey the first general manager to threaten people with a forced exit. So maybe he was being facetious, just to drive home his point.
Or, hell, maybe he meant it. Donovan Mitchell is already that good; he is already worth such a proclamation. No, he's not the Rookie of the Year. That honor, very clearly, belongs to Ben Simmons. Let's move on from there. But he is pivotal to what the Jazz do.
Look no further than Game 2's detonation for proof. His 10-of-25 shooting clip wasn't the most efficient, but his constant probing opens up things for everyone else. And his ability to hang on defense allows the Jazz to keep him on the floor, as their primary attacker, without conceding any major trade-offs.
So here's to Mitchell, a rookie who was, it seems, well worth Lindsey's over-the-top pre-draft sentiments.