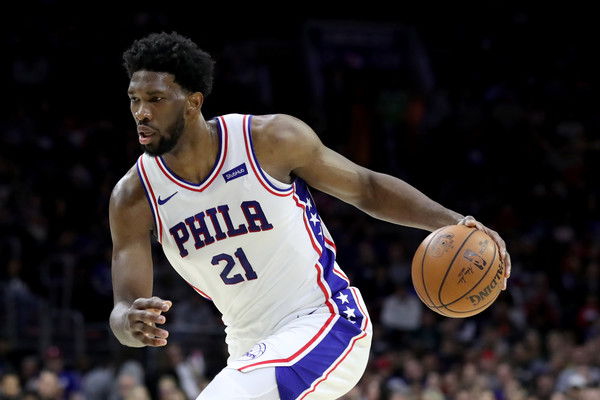 Joel Embiid seems like he's done watching the Philadelphia 76ers' playoff campaign unfold from the sidelines.
The big man has missed the past 10 games, both regular season and postseason, after having surgery to repair an orbital fracture near his left eye. Though the Sixers won the first nine of those contests without him, their 113-103 loss to the Miami Heat on Monday appeared to get to him.
Here's what he posted on his Instagram story, delivered to us courtesy of Count The Dings' Zach Harper:
— Zach Harper (@talkhoops) April 17, 2018
Because this is 2018, and because Embiid posted this so soon after the loss, Sixers head coach Brett Brown was asked about the message. His response was, well, friggin' awesome—and perfect:
"He just wants to play basketball, he wants to be with his team… I respect his frustration."

Brett Brown on @JoelEmbiid's "sick and tired" social media post. #NBAPlayoffs pic.twitter.com/mvOFsmFrKM

— NBA TV (@NBATV) April 17, 2018
Look, you cannot fault Embiid for feeling this way. He missed his first two NBA seasons due to injury, then only mustered 31 appearances through his third. This year marked a shift in the dynamic; he made 63 outings, was on pace to clear 2,000 minutes and had an outside shot of hitting 70 appearances before going down.
And not only did he miss all those benchmarks, but his latest dose of misfortune came right before the playoffs. It has to be killing him to watch from the sidelines, as the Sixers start to capitalize on a process he has come to define.
That doesn't mean Philly should rush him back. The team is smart to slow-play this. There's a chance it doesn't beat the Heat without him, but there's also a chance it does. And even if the Sixers don't, so be it. They're not supposed to be title contenders this year. They're ahead of schedule. It makes sense to favor the big picture, even if it pisses off Embiid.
Anyway, Embiid probably isn't mad at the Sixers organization so much as the situation itself. He has to understand they have his long-term health at heart, and he cannot resent them for that, even if he feels like they're unnecessarily treating him with kid gloves. They have their reasons, just like he has his for wanting to be out there.