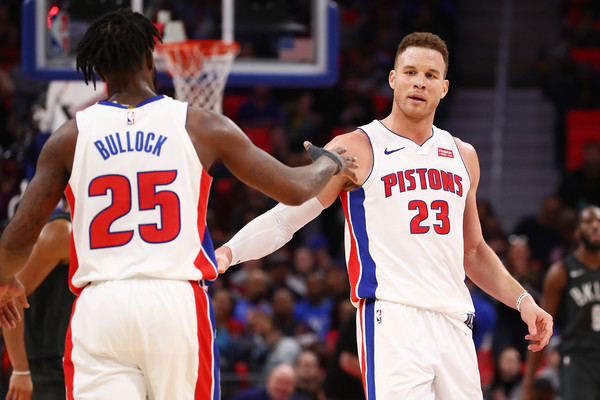 Blake Griffin is one helluva comedian.
This, for the record, is presented without sarcasm or irony. I really mean this. The clip of him doing stand-up that made the internet rounds last summer was mostly hysterical, and he remains one of the NBA's best follows on Twitter.
Speaking of which, the All-Star forward, who will finish the season on the injured list while dealing with an ankle issue, put his social media chops to good use at the expense of Donovan Mitchell—and sort of Ben Simmons.
In advance of the Utah Jazz's Monday night drubbing of the Golden State Warriors, Mitchell rolled up in a shirt that explained the definition of the term "rookie:"
???? pic.twitter.com/Rbf5cY92fD

— SLAM Magazine (@SLAMonline) April 10, 2018
Mitchell's wardrobe decision comes on the heels of Simmons declaring himself the unrivaled Rookie of the Year and admitting that he hasn't been impressed by any of his peers. Make no mistake, this is funny. But it also kind of misses the mark.
Mitchell's shirt explicitly says an NBA rookie is someone playing through their first season. Simmons is doing just that after missing all of last year due to injury. Sure, he was paid by an NBA team, and he had the opportunity to develop behind the scenes around NBA talent. But he didn't actually play. People who are up in arms about him being a Rookie of the Year lock need to chill.
Anyway, Griffin seized the opportunity to troll the both of them:
bro it was like 8 years ago…. ohhhhh i get it https://t.co/b3quTj2JvJ

— Blake Griffin (@blakegriffin23) April 11, 2018
W-O-N-D-E-R-F-U-L.
Griffin, if you remember, earned Rookie of the Year honors in 2010-11, after missing all of 2009-10 with his own injury. There was no uproar then. But now, with Mitchell turning in a performance for the ages, people are making a fuss to fulfill their agendas.
Maybe the NBA needs to make a criteria change. I don't think it does. Rookie of the Year awards aren't everything. Ask Michael Carter-Williams. Merely being in the running is an honor, and both fans and media are smart enough to recognize standout performers regardless of whether they win.
Whoever takes home the hardware this season—it will be Simmons—no longer matters, though. Blake Griffin wins life for this tweet.