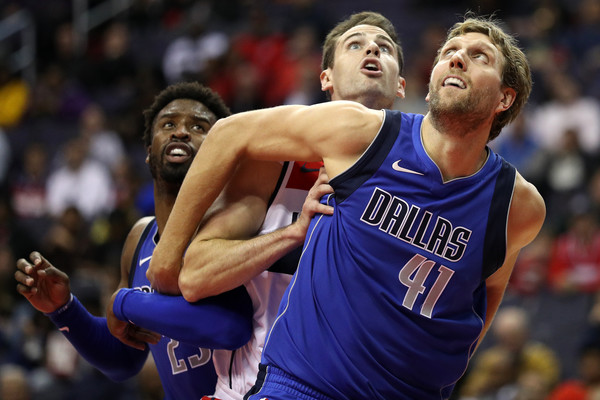 So this is what complete and utter happiness feels like.
Dirk Nowitzki has one year left on his contract—a team option worth $5 million. We know he plans to honor it, even after having season-ending ankle surgery. But could he maybe, possibly, if we're lucky, also play beyond it, into 2019-20 and further on?
Apparently, yes.
From ESPN.com's Tim MacMahon:
Nowitzki, the sixth-leading scorer in NBA history, did not rule out extending his career beyond next season.

"I'm hoping the ankle will be tons better than this year, and then I'm hoping I can play some decent basketball next year, and we'll kind of go from there," Nowitzki said. "I always kind of leave the end open. It's just hard for me at this point to commit further than one year or say one year is it. I kind of want to see how it goes."
Well, this is just spectacular.
Playing into 2019-20 would take Nowitzki into his age 41 season and 22nd go-round overall. That seems crazy, almost unfathomable. But hey! If all goes according to plan with his recovery from ankle surgery, he has what it takes to keep playing in today's NBA. This season proved as much.
Nowitzki closes the year with the second-highest effective field-goal percentage of his career and has almost seamlessly transitioned into an off-ball role beside Harrison Barnes and Dennis Smith Jr. His defense isn't going to earn him any acclaim, but some of the Mavericks' lineups with him at center have been straight fire—especially when he's operating within the second unit. He also just posted the second-highest defensive rebounding percentage of his career, according to Basketball-Reference.
Sign us up for another year of Dirk. And then another year after that. And then another. And then another. And then another still.
Basically: Dirk, forever.