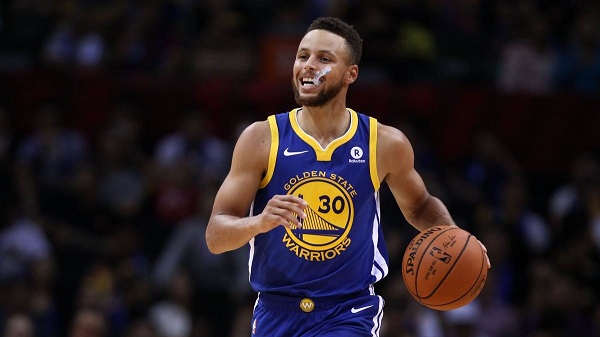 The Warriors seem to have more players on the training table than the court these days as every member of their big four is either on the shelf or dealing with a nagging injury at the moment.
Because of this, the Warriors have lost four of six games and are now 3.5 games behind the Rockets for the No.1 seed in the western conference.
Help is on the way soon as two-time MVP Steph Curry could return to action this Friday.
From Chris Haynes of ESPN:
"Curry could, however, return as soon as Friday when the Atlanta Hawks visit Oracle Arena, multiple sources disclosed to NBC Sports Bay Area on Monday night. ESPN, citing league sources, was first to report the team's plan.

The two-time MVP's right ankle is scheduled to be re-evaluated Tuesday, after which time a firm return date is expected.

Curry was physically able to play — and actually pushed to return — last weekend, according to league sources. But the Warriors, looking ahead to the playoffs and seeing diminished value in the remaining regular-season games, opted to continue rehabilitation in hopes of maximizing support for the area around his ankle."
It is obvious that the Warriors are conceding the No. 1 seed and home court to the Rockets, instead opting to keep their eyes on the prize and ensure that they are completely healthy and firing on all cylinders come late April, May and June.
Curry has been playing at an All-NBA level once again this season and is one of the most dangerous weapons the NBA has ever seen as the Warriors are 14 points per possession better on offense with him on the floor this season with the spacing he creates and attention he demands.
The Warriors may be limping into the playoffs, but as long as they are healthy once they get there they are the prohibitive favorites to defend their title.