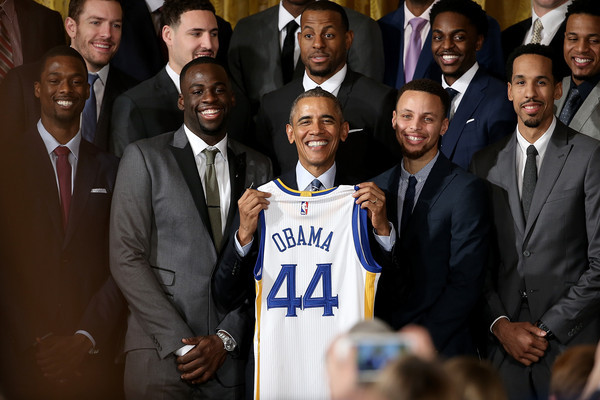 Barack Obama knows how he would handle being an NBA free agent: by signing with the San Antonio Spurs.
Speaking recently at the Sloane Sports Analytics Conference, the 56-year-old basketball enthusiast touched upon a wide array of topics, including a what-if NBA scenario. And while he has showed some love for how the Golden State Warriors do things in the past, he ultimately decided the Spurs stand for everything he'd value as a free agent, per the San Antonio Current's Sarah Martinez:
At a speaking event at the MIT Sports Analytics Conference (fancy), Obama was asked what NBA team he would choose to meet with if, as an All-Star, he was going to be a free agent in the summer.

He answered by listing what he looks for in a team, and ultimately felt that our very own Spurs best embodied what he was looking for.

"They're smart, they're well-run, they're focused on team. They treat everybody in the organization with respect and that is the kind of organization that I want to be a part of," Obama said. "So I would say over the last 15 years in basketball, San Antonio would be a great example of that."
Some Chicago Bulls fan Obama is. A real black-and-red loyalist would pounce at the chance to headline the team's current rebuild.
Nah, but seriously, the Spurs seem like Obama's speed. He always gives off an air of relatable stability. The Spurs are kind of the same way. They're spectacular in how unspectacular they make everything seem, regardless or circumstance. Obama's cool, calm, collected demeanor aligns with their modus operandi.
That being said, he also comes across as pleasant and breezy, two things the Spurs are not. So if it turns out he's too loosey-goosey for San Antonio, Golden State projects as his best hypothetical alternative.
To answer your question: Yes, all this matters. I'm not sure why. But who cares? We just got to riff on the 44th President of the United States talking about his desire to play for Gregg Popovich. Life is good.