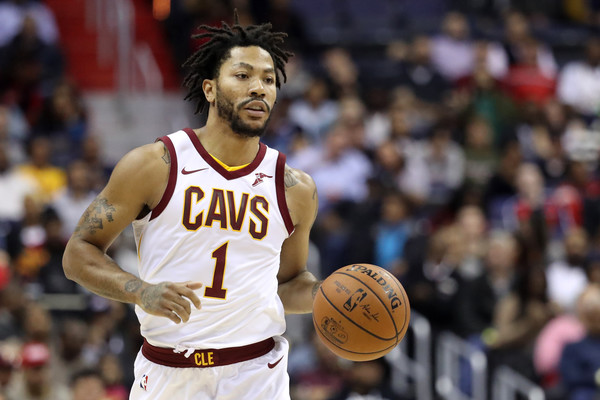 Derrick Rose has yet to find another NBA home after being traded from the Cleveland Cavaliers to the Utah Jazz and getting subsequently waived. And he might not get his next opportunity until 2018-19.
Bleacher Report's Ken Berger staged a fantastic deep dive into Rose's status within the NBA, both immediately and long term. Among the biggest takeaways? His camp is holding out hope the Oklahoma City Thunder will come calling, yet neither they nor the Minnesota Timberwolves nor the Los Angeles Clippers nor any other potential landing spots have offered him anything substantial:
Barring something unforeseen, multiple team executives contacted by B/R are convinced that Rose may have to wait till next year.

To this point, Rose has received a couple of 10-day contract offers, but nothing more attractive or substantial, league sources told B/R. He's looking for an opportunity that could be a longer-term fit—and one with a team that's ready to win now, or soon, as opposed to rebuilding. . . .

There's a hope within Rose's camp that the Oklahoma City Thunder—down a guard with the loss of Andre Roberson and looking for any edge they can find to contend with the Golden State Warriors and/or Houston Rockets in the postseason—may still come calling. As of Wednesday, there was no traction there, sources said.
Landing anything more than a make-good contract will be difficult for Rose before next season. Tanking teams won't want to hand minutes to a 29-year-old point guard who doesn't come with Bird rights, and Rose has not been good enough for any playoff squad or fringe hopeful to view him as a surefire solution.
Perhaps if Rose was willing to sign a multiyear deal, with a non-guarantee baked in for next season and beyond, he'd have an easier time of soliciting overtures. But that disallows him from capitalizing off a theoretical hot streak to end the year. And after playing for the minimum this season, you can see why that might give him pause.
Then again, the alternative appears to be not playing again until next year—a risky, if reckless, gambit considering there might not be anything meaningful waiting for him over the summer, if there's an even a viable offer at all.