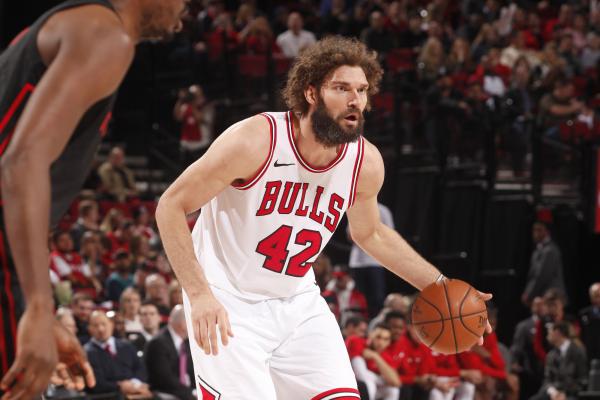 Robin Lopez and Justin Holiday have to play. The Chicago Bulls have been warned.
Literally.
As first reported by Yahoo Sports' Shams Charania, the NBA cautioned the Bulls against resting healthy plays, such as Lopez and Holiday, as part of its crackdown on flagrant tank jobs:
After the NBA issued a warning to the Chicago Bulls this week about resting healthy players, the franchise now plans to play veteran starters Robin Lopez and Justin Holidaymore extensively the remainder of the season, league sources told Yahoo Sports.

The dialogue between league officials and the Bulls was cooperative and productive, with the league providing advice and the Bulls open to guidance on the nuances of the new rest rules, league sources told Yahoo Sports.
This news comes shortly after the NBA sent a memo to teams about its official stance against tanking and its intent to police teams to the best of its ability. Though Dallas Mavericks owner Mark Cuban's recent comments on the subject are believed to have served as a potential trigger for the league's commitment to regulating how lottery-bound teams conduct themselves, this type of development was inevitable. So many squads have fallen out of the postseason picture, and this is the final year of the current lottery format, where the team with the worst record gets the absolute best odds at landing the No. 1 pick.
While the NBA's position makes sense in a nutshell, this latest warning creates a slippery-slope precedent. If the Bulls have to play Holiday and Lopez, does that mean the New York Knicks need to play Joakim Noah? Or that the Los Angeles Lakers have to play Luol Deng?
Chicago's situation is different, because it has been using Lopez and Holiday for most of this year until recently. They're also two players who help the team win. Still, this is something to consider elsewhere as the NBA steers into its stretch run and tankers try pushing the boundaries of intentional losing even further.