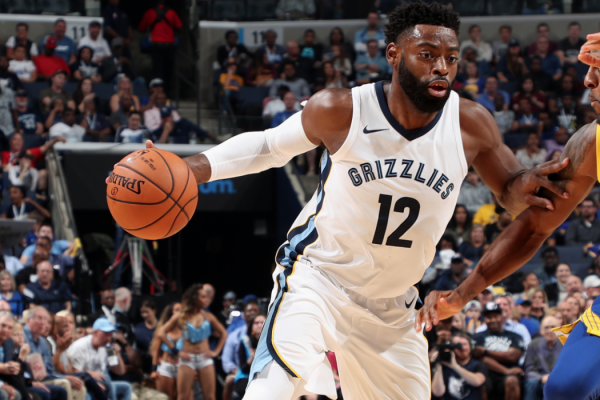 Tyreke Evans has more likely than not played his last game for the Memphis Grizzlies.
The team removed its standout wing from the lineup in advance of Wednesday's loss to the Indiana Pacers. And the relatively sudden timing was no coincidence. Memphis is preparing to trade Evans, who will hit free agency again after this season, to a list of suitors that includes, but is probably not limited to, the Boston Celtics, Denver Nuggets, Milwaukee Bucks, New Orleans Pelicans and Philadelphia 76ers.
Here's the all-knowing Adrian Wojnarowski with the skinny over at ESPN.com:
As trade discussions involving Memphis Grizzlies guard Tyreke Evans intensify, the organization plans to sit him out until a deal is completed, league sources tell ESPN.

The Grizzlies are shopping Evans to try to bring back a first-round draft pick, league sources said, and discussions with several playoff-contending teams have intensified in the past 24 hours.

Teams chasing the playoffs in the East (Milwaukee, Philadelphia and Boston) and the West (Denver and New Orleans) are among those expressing interest in acquiring Evans, league sources said.
Getting a first-round pick for Evans' services could prove difficult, if impossible, without the Grizzlies throwing in another asset (James Ennis) and/or taking back a longer-term salary as part of the deal. Make no mistake, his output is worth a mid-to-high draft choice on its own, but because he signed a one-year deal at the bi-annual exception, his next team, like Memphis, won't own his Bird rights.
That, for the record, is a huge deal. It essentially means his team will have to dip into cap space (or its mid-level exception) to keep him beyond this year. That he's played well enough to perhaps price himself beyond the full mid-level exception only complicates matters. His next squad needs to have cap space or trade for him under the assumption that he's a months-long rental.
Prospective suitors won't want to cough up too much value for someone who's either leaving or in line for a monstrous raise on their dime. Still, with so many teams ostensibly in the running right now, Memphis should be able to broker a deal that nets a first-rounder—even if it means sending something else out or taking something less desirable back in.