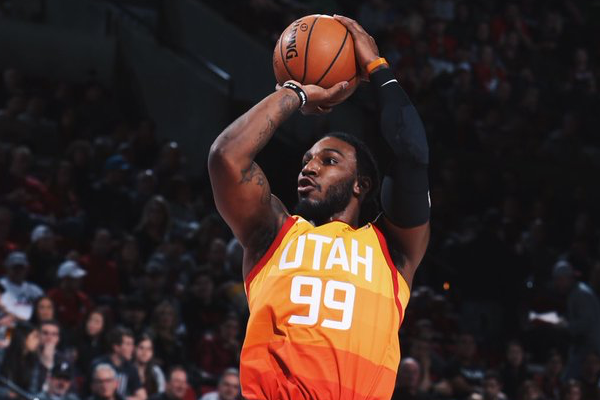 Jae Crowder may have thrown some subtle shots at the Cleveland Cavaliers following his debut with the Utah Jazz.
Shortly after the Jazz's Sunday night win over the Portland Trail Blazers, during which Crowder logged 29 minutes and canned three triples, the combo wing had nothing but good things to say about Utah—seemingly at the expense of Cleveland's dynamic, per KSL.com's Andy Larsen:
"Unbelievable. Playing with them on the court is very very very fun. I got back to having fun playing basketball with a great group of guys. It couldn't have gone better."

"We're playing off one another. Coach (Snyder) gives a lot of freedom to these guys, some structure but a lot of freedom. I love it, I love playing with them, I love playing within the system."
So, yeah, this probably Crowder taking indirect shots at the Cavaliers—not in a "Cleveland sucks" sort of way, but in a "Utah is a more my style and I love it," kind of way. And that makes sense.
Jazz head coach Quin Snyder does more than have his players simply orbit around one or two gus. He implements a lot of passes and off-ball movement. On their best, most efficient nights, the Jazz are a billboard for constant movement and swing passes and general hard work. That suits Crowder more than being a spot-up assassin in Cleveland. He's never going to be someone who puts the ball on the floor en masse, but the Jazz's supporting cast does, indeed, play with a certain level of freedom not incumbent of LeBron James' sidekicks.
Which, again, fine. Cleveland wasn't good a fit for Crowder. The Cavaliers need guys who can play that way so long as LeBron is in town, and it wasn't like Crowder's struggles are on them alone. He shot 28.8 percent on regular open threes, according to NBA.com. His accuracy around the rim dropped by more than six percentage points, per Basketball-Reference. He was off during his time in Cleveland, and he deserves some blame for it.
The takeaway from all this? There's a chance both Crowder and the Cavaliers are better off without one another.