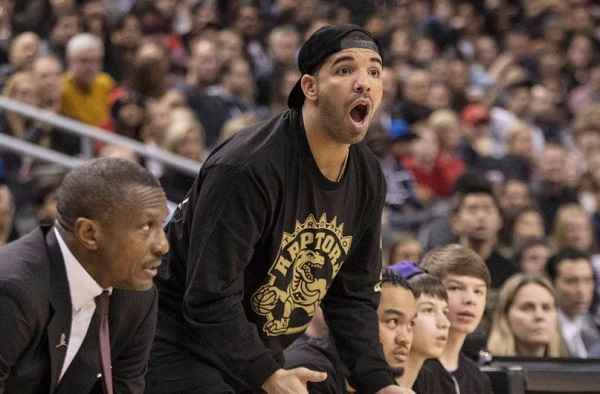 As we all know by now Drake likes to do his part to put Toronto on the map, after running through the six with his woes during his formative years before finding fame in the city.
He is also a sports fanatic and has a partnership with the Toronto Raptors organization.
This partnership has lead to the final uniform for the Raptors this season as they unveiled their new Drake inspired black and gold alternates over the weekend on Twitter:
This that new Toronto.

Presenting our very own OVO Edition Jersey.

Available now at @RealSports & @welcomeOVO. pic.twitter.com/IwOzyAkVB2

— Toronto Raptors (@Raptors) January 12, 2018
Black and gold always look pretty sleek together and this jersey is no different, the gold outline for the numbers are very visually appealing, but the frisbee shaped "North" emblem across the chest is a little distracting and detracts from the sleek nature of the uniform making it feel a little more clunky in my opinion.
Still pretty incredible that the team even has a rapper inspired uniform in general, imagine what a Jay-Z inspired Nets uniform, an Eminem inspired Pistons uniform, a Kanye West inspired Bulls uniform or even a Justin Timberlake inspired Grizzlies uniform would look like.
No details have come out as to when the Raptors will wear these on the court.