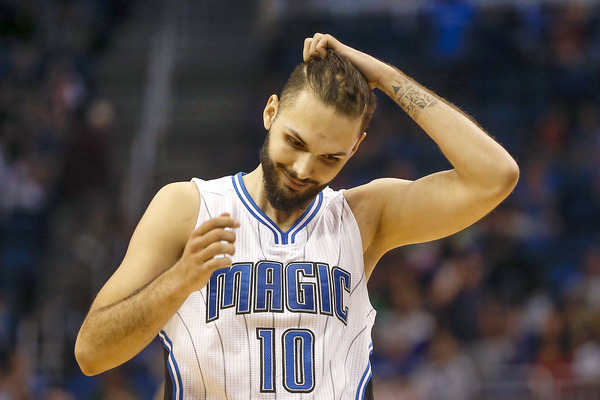 The Detroit Pistons are heavily invested in winning now.
That much is certain following the latest rumor dump from ESPN.com's Adrian Wojnarowski. He paints the Pistons as fervid buyers, an approach that's even led them to discuss Evan Fournier's availability with the Orlando Magic:
Detroit pursued a deal for Fournier, but that would've been hard to execute without Reggie Jackson's contract included — even if Detroit decided to include promising rookie Luke Kennard. Jackson will be sidelined for another month-plus with a severely sprained ankle.

Detroit has remained one of the most aggressive teams on the early market, reflective of the Stan Van Gundy regime's desire to win now.
Someone like Fournier makes sense for the Pistons. They've fallen to 19th in offensive efficiency and long had a need for another floor-spacer who can create his own shot. Fournier is shooting better than 40.5 percent from downtown this season and averaging over 17 points per game for the second consecutive year. He's the rare featured scorer who doesn't always need the ball. The Magic often treat him as a No. 1 or No. 2 option, because they're short on alternatives. But he's also canning nearly 45 percent of his catch-and-shoot treys, according to NBA.com.
Fournier himself, however, doesn't make all the sense in the world for the Pistons. Again, they need someone like him. But acquiring him exactly leaves leaves them on the hook for the final three years and $51 million of his deal (player option for 2020-21). Pistons coach and president Stan Van Gundy can give Fournier a long hard look if he's getting off Jon Leuer's deal in the process. Barring that, though, the Pistons are better off shopping around for cheaper players who do some, or all, of what Fournier does—guys like Marco Belinelli, Luke Babbitt, Courtney Lee, Tyreke Evans, etc.