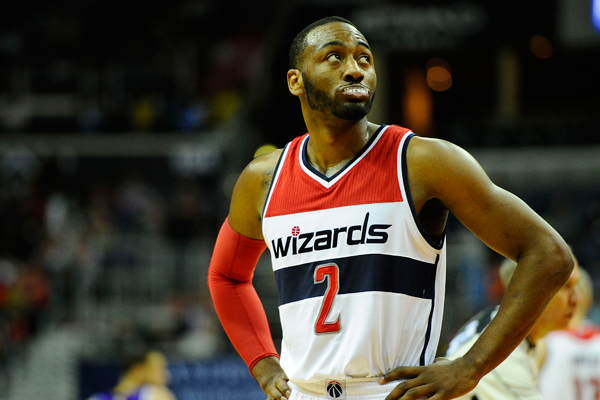 With the Washington Wizards in closer proximity to the Eastern Conference's ninth-place Detroit Pistons than the second-place Toronto Raptors, it stands to reason John Wall's six-to-eight-month absence will have them working the phones and dangling their best assets in pursuit of an impact trade.
Or, you know, maybe not.
Despite losing Wall, the Wizards are apparently in no rush to trade this year's first-round pick unless it nets them a true All-Star, according to NBA.com's David Aldridge:
Meanwhile, Wizards know what Wall's loss means to short term, but remain determined to keep their 2018 first-round pick after dealing their firsts in three of the previous four years to fill holes on roster. A trade this year would have to involve a star, not a role player.
 This stance is actually an interesting one for the Wizards to assume. It makes sense they want to hold onto a cost-controlled asset when they've doled out max deals for Wall, Bradley Beal and Otto Porter. But they're also about $5.7 million over the luxury-tax line. Their first-round pick could be the buffer that gets them under while bringing back a valuable partial-season rental like Lou Williams or Tyreke Evans—both of whom would immensely help them, particularly during Wall's protracted stay on the sidelines.
Then again, plenty of risk is baked into that as well. The Wizards rank among the NBA's biggest underachievers at the moment. Doubling down on a roster that's striking out against its own expectations verges on reckless.
In the event they can swing a deal that nets, say, Williams and DeAndre Jordan while shedding Ian Mahinmi's pact, then yes, the Wizards will certainly consider dealing their first—along with Kelly Oubre Jr. For now, though, playing the idle card is a good way of ensuring they won't mortgage part of their future for another early playoff exit.