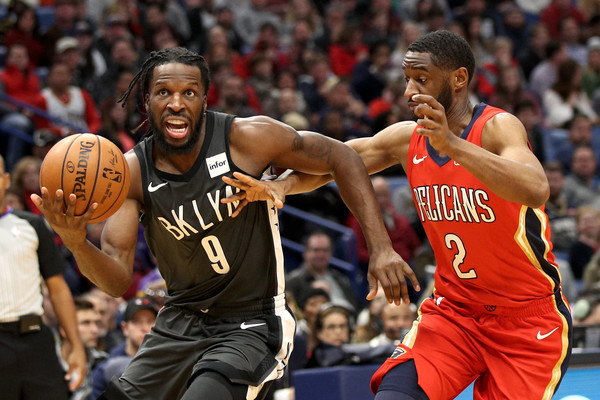 DeMarre Carroll has turned into an asset the Brooklyn Nets plan on keeping…for now.
The team acquired the 31-year-old wing from the Toronto Raptors over the summer in what was strictly a salary dump for the latter. Carroll is owed a total of $30.2 million this season and next, a bill few teams wanted to bankroll after he declined as both a shooter and defender in the previous years.
Oh how quickly things change, though.
Carroll is hitting enough of his threes (34.7 percent) and playing scrappy enough defenses to pique the attention of trade-deadline buyers. Most notably, he's a big reason why the Nets own a top-eight defense since Christmas. They're a statistical wash on the less glamorous end with him in the game during this stretch, according to NBA.com, but that says a lot when his minutes, as a starter, so often mirror those of premier wing assignments.
Even though his three-point clip has dipped over this span (31.8 percent), it's easy to envision him making meaningful contributions to a winning team. Yet the Nets, who remain in big-picture mode, apparently have no plans to trade Carroll, despite reported interest, according to Newsday's Greg Logan:
According to a recent ESPN report, Detroit and New Orleans, in particular, are interested in what Carroll might add to their playoff push, but both would have trouble finding a salary-cap match to send to the Nets, who always are seeking draft-pick compensation. . . .

Mark Bartlestein, Carroll's agent, is confident Nets general manager Sean Marks and Atkinson aren't looking to move his client. "I'm sure there's a lot of teams interested in DeMarre," Bartlestein said. "He affects the game in a lot of different ways, and a lot of people would love to have him. But I know Sean Marks and Kenny value him big-time. I know for sure they're not trying to trade him. There's always conversations around the league and anything can happen, but I know the Brooklyn Nets put a great value on DeMarre . . . I want to make sure people realize that."
Either way, regardless of when or how the decision comes, this feels like a win-win for the Nets. They secured a first-round and second-round pick for eating Carroll's contract. Now, at some point, it seems like they'll be able to use him to acquire another first-round selection or prospect.