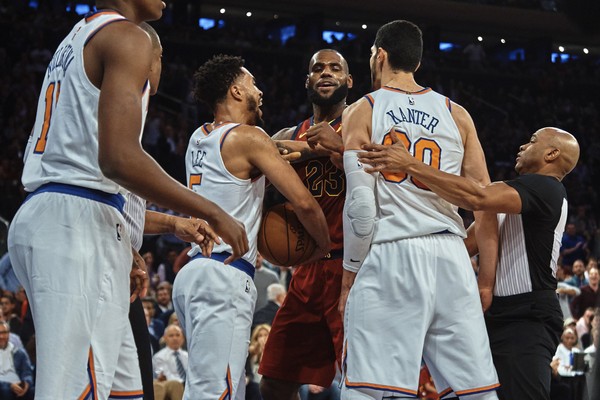 Sigh, Enes.
During the New York Knicks' Monday night loss to the Cleveland Cavaliers, Enes Kanter did a good thing: came to the defense of rookie Frank Ntilikina, who found himself in the middle of a miniature scuffle with LeBron James—no doubt the result of lingering tension following the latter's sentiments on Dennis Smith Jr.
Anyway, yeah, Kanter immediately went to confront LeBron, like so:
"KD left your—"

"N-T-I-L-I"

"your subway system is—"

"K-I-N-A"

"enjoy the lott—"

"N-T-I-L-I"

"Willy better than—"

"K-I-N-A"

"Russ likes Melo more than—"

"N-T-I-L-I"

"i swear i'll beat your—"

"K-I-N-A" pic.twitter.com/bBXZNtDsu1

— Dan Favale (@danfavale) November 14, 2017
Good. Great. Grand. He stuck up for a younger teammate. Good on him.
But he took it one step further after the game, trying, and failing, to insult James' "King" moniker, per Newsday's Al Iannazzone:
"You ain't coming to my house and playing that water bottle flip game again," Kanter said, referring to what James and other Cavs did during their blowout victory at the Garden last season. "I don't care who you are. What do you call yourself, King, Queen, Princess, whatever you are. We're going to fight. Nobody out there is going to punk us."

James didn't seem bothered by Kanter's remarks.

"Well, I'm The King, my wife is The Queen and my daughter is The Princess, so we got all three covered," he said.
Listen to the sound bite, and Kanter doesn't put an emphasis on Queen or Princess, suggesting he's poking more fun at James' royalty designation. But this is still casual misogyny at best. Calling someone a girl or female as an insult shouldn't be happening today, in 2017. It's not an insult. It's a harebrained attempt at throwing shade towards someone who, let's face it, just came into your "house" and embarrassed you.
No, the Knicks are not supposed to win games against the Cavaliers. But they were also up by 23 points. Blowing that kind of a lead is ridiculous. Kanter should have focused more on that, rather than the extracurricular element with James and Ntilikina.