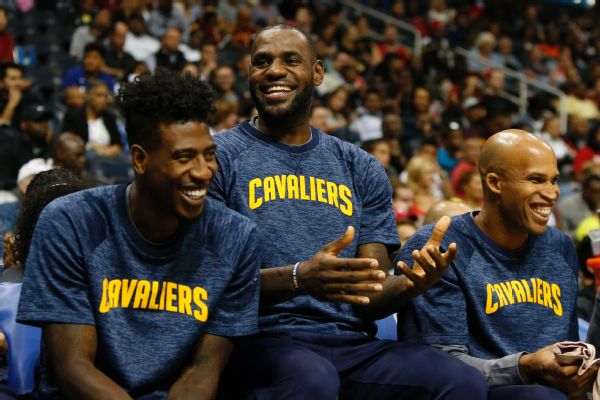 LeBron James is vibing the NBA's captain-centric tweaks to its All-Star game.
Under the new format, which was announced last week, the Eastern and Western Conference will still send 12 representatives apiece, with the five starters being chosen through a weighted fan (50 percent), player (25 percent) and media (25 percent) voting process. Coaches will continue to select the seven reserves per conference as well.
The new twist: The top vote-getters from either side will be named captains, and they'll assemble their own squad irrespective of conference affiliation. Their first four picks must come from the remaining eight players in the starter's pool, at which time they'll move on to the collection of 14 reserves, but they won't be tied to anything else.
Needless to say, fans were excited about the change—and so, too, were the players…LeBron James among them, per ESPN.com's Dave McMenamin:
LeBron James, speaking to the media for the first time in nearly two weeks, offered his thoughts on the All-Star Game format change: "I don't see it as a bad idea. We had to do something. The All-Star Game has been pretty bad the last couple years just from a competition standpoint. Trying to switch it up. Just like how the dunk contest was at one point it was great, then it wasn't so well, so they had to kind of switch it up. Then it got good, then it got bad and you switch it up again. You see what happens. It's hard to say if it's good or bad yet. We haven't done it yet. February isn't here yet so no one knows how good or how bad it's going to be. But I like the change. Why not?"
Love (read: Loooooove) this reaction.
Why the hell not, right? The NBA has nothing to lose. The All-Star tilt has devolved into a no-defense alley-oop/layup/three-point contest in recent years. Inserting captains into the equation while ditching conference affiliations not only paves the way for dream hardwood pairings we otherwise wouldn't get to see, it introduces more narrative-driven agendas into the fold.
Would LeBron pick Kyrie Irving earlier than the last pick? What about Kevin Durant with regards to Russell Westbrook, or vice versa? If LeBron rolls with Paul George as one of his selections, will people automatically use it as evidence that the two of them plan to team up on the Los Angeles Lakers next year?
So, yeah, why not?