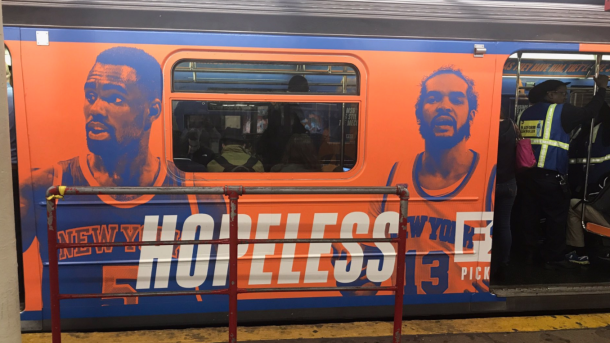 Fox Sports went out on a limb for a new marketing campaign for the New York Knicks in the past week that included New York City subway advertisements that either said "Hopeless" or "Hopeful" about the Knicks.
As you can surmise, New Yorkers responded to and constantly shared all of the "Hopeless" versions you could find until Fox Sports was paid to remove the ads and scratch the marketing campaign altogether in the past few days.
Please enjoy this hilarious and brutal campaign…
On the shuttle that runs between grand central and Times Square lmao pic.twitter.com/iWMrHJijU7

— Jared (@JMintzHoops) October 2, 2017
According to Bleacher Report, Knicks Owner James Dolan was furious about the ads and had them taken down. Here is most likely why…
— Mike G (@mgilliga) October 3, 2017
The shots at Joakim Noah for having his jersey on the set next to the statement about Dolan is pretty harsh as well. This is pure Knicks and New York City through and through and I love it, even though it is slightly insane and a bizarre way to promote the product. Fox Sports may be singing a different tune if they actually had the television rights to the Knicks, which are currently held by MSG Network.
This campaign was brutal but refreshing in a way. I honestly don't know that I would completely write-off the Knicks as being hopeless though now that Kristaps Porzingis is officially the face of the organization and Phil Jackson is gone. I mean they did just pay Tim Hardaway Jr. $18 million per season though…