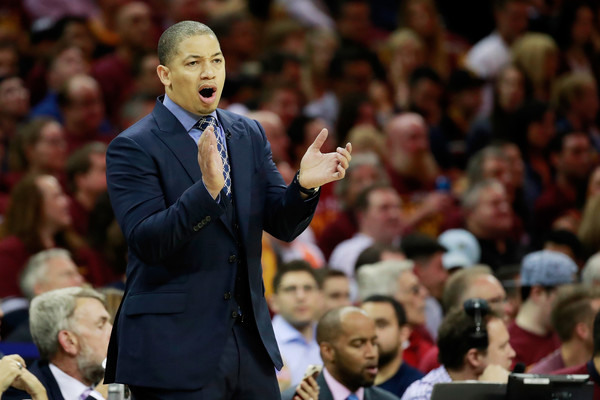 The NBA Finals may be eight months away, but according to Jae Crowder, that hasn't stopped Cleveland Cavaliers head coach Tyronn Lue from preparing his troops for the probably inevitable showdown with the Golden State Warriors.
From ESPN.com's Dave McMenamin:
Jae Crowder says that Ty Lue already is prepping the Cavs with the Warriors in mind: "I can tell by schemes we've been putting in, it's all in place for that matchup, what those guys bring because they're very dynamic in how they play on the offensive end. With us having a lot of different schemes in our back pocket is going to help come late."
If you have a problem with the Cavaliers looking this far ahead, check out the rest of the Eastern Conference. It'll make you feel a lot better.
The Cavaliers still don't have a real threat to their throne. The Boston Celtics look good on paper, but they lost value over the offseason given all the collateral damage they suffered to get Kyrie Irving and Gordon Hayward. They may take a step back, before skyrocketing up the NBA's pecking order in years to come. Maybe they'll pose more of a serious threat during the playoffs, after having a full 82-game schedule to jell, but the Cavaliers themselves should have Isaiah Thomas back by that point, making them that much more dangerous.
No other team really registers on Cleveland's radar. The Toronto Raptors, Milwaukee Bucks, Washington Wizards, Miami Heat and Charlotte Hornets are all quality squads. Not one of them, though, is beating the Cavaliers four times in seven tries.
It makes perfect sense, then, that Lue would play to this landscape. All roads to another title, for every team in the NBA, lead through the Warriors, and the Cavaliers have all but punched their ticket to the NBA Finals. Why would they gear up for this season with anything else in mind?