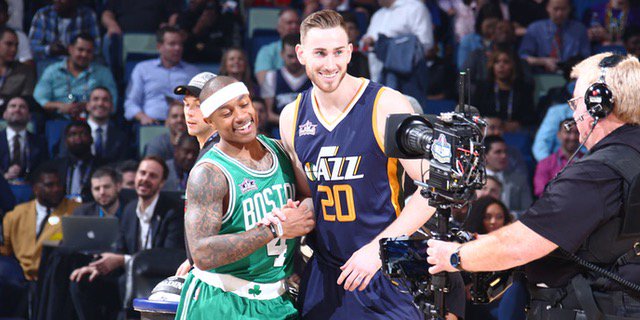 Boston was the big winner in free agency this season as they were able to lure 27-year-old All-Star wing Gordon Hayward from the Utah Jazz.
Everybody knew Boston would be a big contender for Hayward's services because of his connection with Celtics Head Coach Brad Stevens, whom recruited him to and coached him at Butler University.
Another person who had a big role in persuading Hayward's decision is no longer with the franchise: Isaiah Thomas.
Hayward wrote a new blog post on his personal website GordonHawyward20.Life (seriously) and shared how he felt a connection with Thomas and that Thomas was an integral part in painting the picture for Hayward to become a Celtic:
"He didn't just help recruit me to Boston—he was a big piece of that recruitment. He had talked a lot about city and how it was different to be a Celtic. He talked about the intensity of playing in the Eastern Conference Finals, playing at the Garden in the playoffs, and how much fun it was, and how much fun he had playing in Boston.

All of that ultimately helped win me over. And by the time of the trade, I had already started to build a little bit of a relationship with him."
Pretty interesting, just one more way in which Thomas gave literally everything he had to the Celtics organization on and off the court and wasn't rewarded for it (although I agree with the Celtics decision to trade him now, even if it was a bit cold).
Hayward seems like an easygoing guy so I am sure he will get along just fine with his new back court mate in Kyrie Irving. It will help if he likes reading philosophical books and conspiracy theories, and occasionally moonlights as an older man in disguise to play pickup basketball at parks.