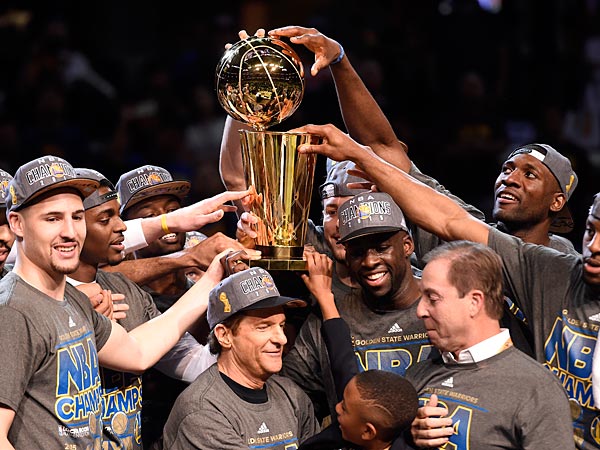 Life is great in Silicon Valley right now. It is home to maybe the greatest team in NBA history coming off an NBA championship and it is the hub of the tech explosion and massive amounts of money in a concentrated area.
Add these factors together and you have an extreme desire and premium on Golden State Warriors tickets, some of the hardest tickets to find in professional sports.
Now for those Warriors fans who can not only afford tickets to a game, but a suite, they have a pretty special opportunity: to get to see (and I am assuming touch) the Larry O'Brien Trophy up and close and personal…
.@warriors suite buyers can folk down another $2k for a #championshipexperience incl champagne, trophy visit and gift bag @darrenrovell pic.twitter.com/SSCKE931Vp

— Gilbert Lee (@gillee) September 20, 2017
So $2,000 gets you access to the most hallowed trophy in the NBA (some may think it is the MVP trophy) a gift basket featuring a replica ring and trophy and most importantly two bottles of champagne! I am sure spraying them everywhere is not encouraged though unfortunately.
While that is an exorbitant amount of money to most, the types of people in Silicon Valley who will be buying these suites for games can easily afford this sort of package and will likely take advantage of it.
This is a pretty smart idea and another way for the Warriors to monetize their massive success. For those who are fans of the 29 other teams in the NBA, we can only hope this sort of promotion brings some bad luck and Juju (watch Silver Linings Playbook) to the Warriors this season.