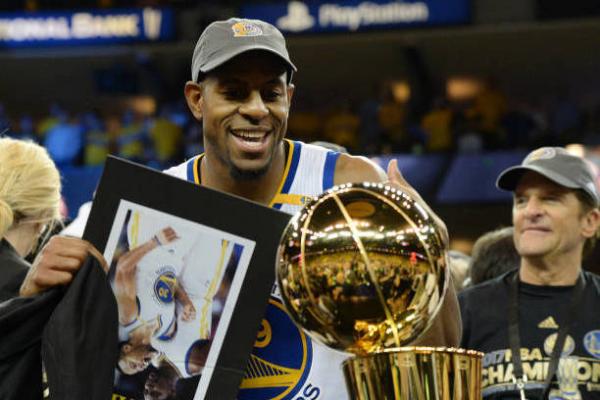 Leading into free agency, Andre Iguodala's return to the Golden State Warriors didn't feel like the surest thing. It was likely, perhaps inevitable, but there was this growing feeling that some team could come along and offer more than Golden State was willing to pay.
Iguodala even admits he didn't explore the open market just to gain leverage. He went to actually, wholeheartedly look. And he did. But he came back, on a three-year, $48 million deal, in large part because it was just too hard to leave:
"Just want to keep this rolling… that brotherhood we built over the last couple years, it means a lot." – Iggy on Warriors#NBAFreeAgency pic.twitter.com/xU9ffKqDBY

— NBA TV (@NBATV) July 3, 2017
Also factoring in: Iggy's son was pretty upset when he heard the family might be leaving the Bay Area:
Andre Iguodala joined #GameTime to confirm he's re-signing with the @warriors! #NBAFreeAgency pic.twitter.com/LyuDOMSlMI

— NBA TV (@NBATV) July 3, 2017
The caveat in all this: Iggy's contract is very good. The Warriors didn't play hardball and refuse to offer a third year. They gave it to him. That helps.
Who knows, maybe Iggy could've netted more on the open market. But the chance to return on a comparable deal is appealing when you've won two championships in three years and are perfectly set up to grab another one in every single year of your next deal.
Plus, on top of that, there's this:
#lightyears pic.twitter.com/mgrn6DeEUT

— Dan Favale (@danfavale) July 2, 2017
A lot can change between now and 2020-21 obviously, but the fact that the Warriors are steering into this situation, having already locked up Shaun Livingston on his own three-year deal, has to carry cachet with the players. It shows a financial commitment of epic proportions, even if the books get tinkered with eventually. And that matters.
The money always does.