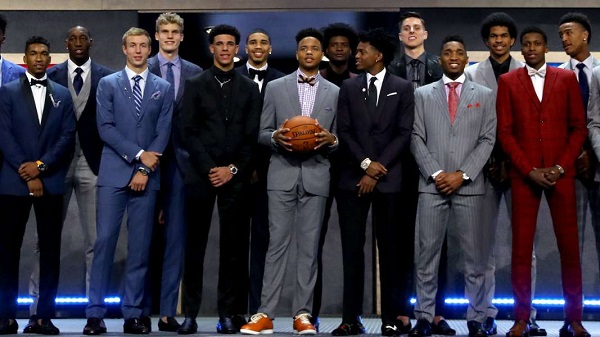 Now that the 2017 NBA Draft is a thing of the past, unless you delight in reading draft grade pieces from all over the internet like me, the sports books have already gotten a jump on which of these rookies they see having the most success on the hardwood in 2017-18.
While it is a little too early to bet on this considering the composition of these teams can still change drastically in the next few months with free agency, and it may be a good idea to at least watch these guys play in summer league, the opportunity is already available to make some cash down the line if you feel like you can peer into the crystal ball of the 2017-18 season.
Here are the first odds released by Bovada:
Lonzo Ball (Lakers) 5/2
Ben Simmons (76ers) 3/1
Markelle Fultz (76ers) 5/1
De"Aaron Fox (Kings) 7/1
Josh Jackson (Suns) 9/1
Jayson Tatum (Celtics) 9/1
Jonathan Isaac (Magic) 16/1
Malik Monk (Hornets) 16/1
Dennis Smith (Mavericks) 16/1
John Collins (Hawks) 20/1
Justin Jackson (Kings) 22/1
Lauri Markkanen (Bulls) 22/1
One can't forget that No.1 pick of the 2016 NBA Draft Ben Simmons is still eligible and very much in the mix, but it appears that Lavar may have had something to do with these odds as Lonzo is the early favorite. Vegas must believe Lavar's claim that Lonzo will lead the Lakers back to the NBA Playoffs.
Simmons and Fultz could cannibalize each other's opportunities to take home the award potentially, but Fox and Jackson should be in the mix as well and Jayson Tatum may be the most NBA ready of the bunch. If it were me betting though (and full disclosure I might) Dennis Smith is the best value on the board here at 16 to 1. If the Mavericks are unable to acquire Jrue Holiday which could change things dramatically, Smith could be the starting point guard with plenty of opportunity in Dallas. He can be very productive in Dallas's spread out offense. This will allow him to utilize his elite quickness and athleticism to get into the paint and create a dangerous pick-and-pop game with Dirk or a pick-and-roll game with Nerlens Noel.