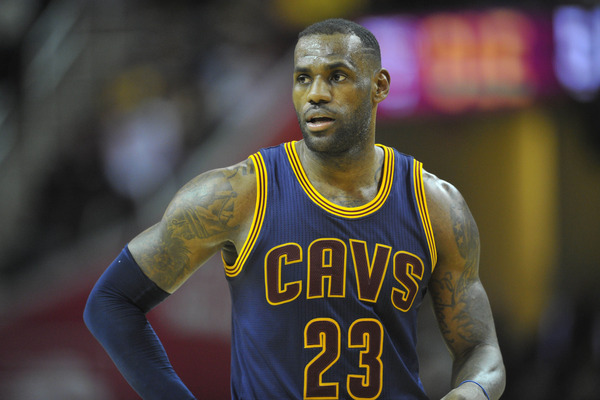 LeBron James wouldn't be alone if he thought the Golden State Warriors adding Kevin Durant was unfair. Plenty of people would be right there with him. And you can easily envision him being right there with them. His Cleveland Cavaliers are down 3-0 in the NBA Finals without a puncher's chance in hell of coming back. Their latest loss, in Game 3, demonstrated just how overwhelming the Warriors were.
And yet, he doesn't think the Warriors are unfair, per Rachel Nichols of ESPN:
LeBron asked if GS roster is "fair." He says yes, within the rules, then adds, "If I become an owner, I'm going to try to sign everybody."

— Rachel Nichols (@Rachel__Nichols) June 8, 2017
LeBron also drew some cross-sport comparisons to support his claim, per ESPN's J.A. Adande:
LeBron on if Warriors+KD is fair: "Is it fair the NY Yankees in the 90s added piece after piece? Is it fair the Cowboys added Deion Sanders?

— J.A. Adande (@jadande) June 8, 2017
On top of that, it even seems like he'll revel in the opportunity to face the Warriors in Game 4:
"It's part of my calling to go up against great teams."

– LeBron James & the @cavs prepare for Game 4 tomorrow.#NBAFinals pic.twitter.com/RwAtInq0Ir

— NBA (@NBA) June 8, 2017
You have to admire LeBron's approach here. It really reminds you how much he's matured over the years, as both a basketball player and human.
Nothing fazes him after eight trips to the Finals—including one in each of the last seven seasons. He has lost enough to know it's not the end of the world; he has been here enough to know that he can meet failure with another appearance next year. As for whether the Cavaliers could stand up to these Warriors in 12 months time, well, that's a different story.
But credit LeBron for not taking a potshot at Golden State's construction. Yes, he left for the Miami Heat in 2010. And sure, he returned to Cleveland and formed another superteam in 2014. But the circumstances were different. He wasn't joining a championship team on either occasion. He was creating one. That's an important distinction. He could have very easily said the Warriors' path to this point was unfair.
It's not, of course. As LeBron pointed out, it was well within the rules. The cap spike created the opportunity—as did Stephen Curry's previous contract. The existence of Golden State's roster is more on the NBA and it's failure to implement cap-smoothing after the latest TV deal.
So while the Warriors are unfairly good, the road they took to get here is hardly unjust. Even on the brink of an NBA Finals sweep, LeBron recognizes this. Even if they're not happy with the NBA's competitive landscape, everyone else should, too.