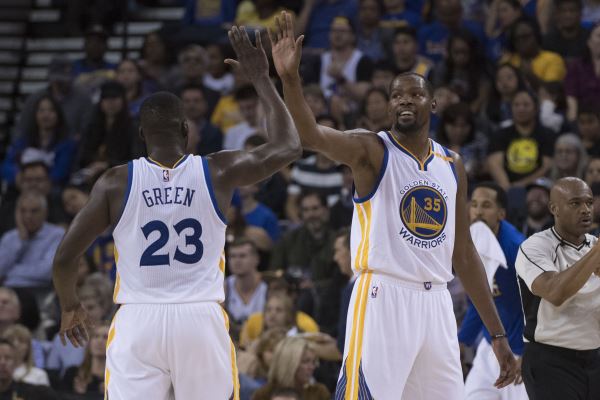 Scandal alert!
Okay, not really. But we have to find a way to be sensational and drum up some drama with the NBA Finals being so one-sided. And Kevin Durant and Draymond Green have given us this (not-at-all real) drama.
ESPN.com's Zach Lowe previously revealed that Green called Durant almost immediately after Game 7 of last year's NBA Finals. With the Golden State Warriors having lost to the Cleveland Cavaliers, blowing a 3-1 series lead in the process, it was then that the groundwork for Durant to leave the Oklahoma City Thunder for the team that eliminated them was laid.
Only, Durant said it wasn't laid then, mostly because Green didn't call him that soon:
"No, he didn't make that call. Not right after the game." – KD on story about Draymond Green calling him right after #NBAFinals loss last yr pic.twitter.com/lzZd9I6fS0

— NBA TV (@NBATV) June 11, 2017
So "not right after the game" is pretty ambiguous. Would a couple hours later not qualify as right after? Was KD sitting by his phone and shocked Green didn't call him within five minutes of the final buzzer? Did Green possibly call the next morning?
Does any of this matter?
No, not really.
The Warriors signed Durant. It doesn't matter when the first recruiting call after the Finals was made. The point is they got him, and they're now on the brink of completing one of the most dominant playoff runs in NBA history because of it.