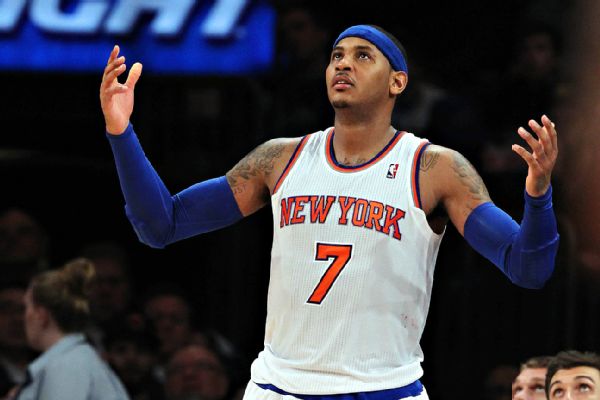 Would Carmelo Anthony look good in Boston Celtics green? Some members of the coaching staff seem willing to find out.
With New York Knicks team president Phil Jackson openly stating in his end-of-season presser that Anthony would be better off playing elsewhere, all the usual trade possibilities are being revisited. The Celtics have always been a team linked to Anthony, even if unofficially, as one of the potential squads he'd waive his no-trade clause to play for.
According to Marc Berman, in fact, people on the Celtics' coaching staff wanted to roll the dice on an Anthony trade last season, which could prompt them to chat with the Knicks this summer:
According to an NBA source, the Celtics coaching staff was in favor of trading for Anthony at the trade deadline, but general manager Danny Ainge had too many reservations. One of Ainge's concerns, according to a source, was an Anthony trade would have given Boston no real cap space to work with for the 2017 free-agent class.

With the top-seeded Celtics possibly on their way to getting swept by the eighth-seeded Bulls, Ainge's thoughts on adding Anthony could change this July.
Danny Ainge is probably right here. It's better to have a ton of cap space than a 32-year-old not-so-quietly ebbing out of stardom.
If the Celtics strikeout in free agency and are able to cobble together a half-baked package the Knicks accept, then there's cause enough to go for it. But with Amir Johnson's and Jonas Jerebko's contracts coming off the books, they're not brimming with expendable deals. Guaranteeing Tyler Zeller's salary only gives them $8 million for matching purposes; they'd have to absorb the rest of Melo's deal into cap space if they're not willing to give up anyone of consequence.
Berman wrote that Jackson would have interest in Jae Crowder, but the Knicks aren't getting him in a Melo deal. The Celtics will only break bread if Anthony is coming at a reduced cost, a roadblock New York will come to encounter with just about every team to which it speaks.