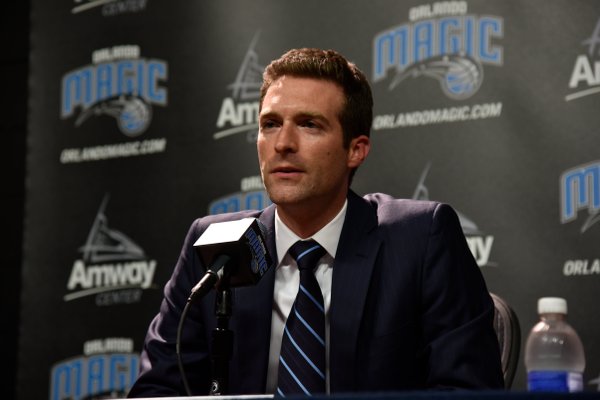 One of the last things you want to do as an NBA general manager for a team that's wrapping up a disappointing season is answer questions about a potentially, and accidentally, leaked look at your offseason plans.
And yet, this is the situation in which Orlando Magic GM Rob Hennigan finds himself.
Orlando signed Patricio Garino, a wing out of Argentina, on Monday. His agent tweeted out a photo of his client signing the contract, because that's a thing players, teams and agents do these days. But there was a whiteboard in the background that seemed to detail what the Magic would be up to this summer:
UMM…did Orlando Magic just leak their targets for trades and free agency?? ? https://t.co/k9bAKImJKK pic.twitter.com/zXoNNHzOWB

— theScore (@theScore) April 4, 2017
Let's zoom in a bit closer:
Here's the picture in question that was posted by someone close to Patricio Garino after he signed with the Magic today (via @UPROXX): pic.twitter.com/8UOwuEnUO1

— Cody Taylor (@CodyTaylorNBA) April 4, 2017
The fact that Jeff Green appears to make the Magic's "Hybrid Free Agency" cut should leave the team's fans irate. That's assuming this whiteboard is indicative of anything the Magic are planning or hope to do. Hennigan was, predictably, evasive on that front, per Josh Robbins of the Orlando Sentinel:
Asked by the Orlando Sentinel for comment, Magic general manager Rob Hennigan said the lists are "not indicative of plans" and were "simply listing options, including some of which other teams have inquired about."
This really isn't a huge deal. It's not like there were specific trades in the picture. And as for the free agents, this is an expansive list. Pretty much every team with cap space will be taking a look at those players, however cursory it might be.
Sure, this is less than ideal. It's a meme waiting to happen. I haven't seen any "Sources tell me the Magic will target Luol Deng via trade," the source being the whiteboard, jokes yet. In the grand scheme of things, though, this doesn't hurt the Magic in any way. If anything, they can spin it as a willingness to be transparent.
Or something.