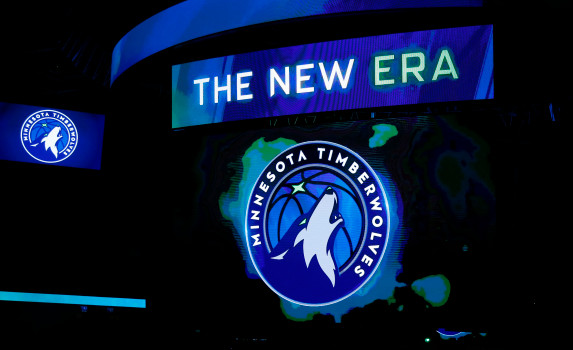 The Minnesota Timberwolves, although a bit of a disappointment this season as many thought they would make the leap to playoff team (not me), still have one of the best accumulations of talent in the NBA under 25, a star in Karl-Anthony Towns, and presumably a very bright future.
They have missed the NBA Playoffs for the 13th straight season now and were in dire need of a re-brand and refresh and they got one on Tuesday.
I give you the new logo for the Minnesota Timberwolves…
#Twolves unveil new team logo, which will be implemented beginning with the 2017-18 season. Full logo: pic.twitter.com/CTq17I4KOT

— Timberwolves PR (@Twolves_PR) April 12, 2017
It definitely harkens back to the color scheme of the original jerseys, (think K.G. his rookie season) with a hint of a lighter, almost highlighter green color to compliment a combination of blue and gray hues.
It has a very Seattle Seahawks feel to it, which is a nice change for the team.
Here is the unveiling video that was showed during the Wolves final home game on Tuesday…
Welcome to the New Era. #NewEraNewLook pic.twitter.com/STDKfWVMrJ

— Timberwolves (@Timberwolves) April 12, 2017
It's a pretty cool and well-produced video that breaks down the franchise's and professional basketball's history in Minnesota and would probably pump up a fan of the team I would suppose.
The logo was designed by RARE Designs Owner Rodney Richardson, who broke down the process to ESPN's Zach Lowe. Here is an excerpt from the ESPN piece:
"Richardson and his team took in all the feedback, scanned Minnesota's old logos and uniforms, and formed a general idea of what people seemed to want. The actual drawing comes last. Richardson doesn't sketch anything until he can write out something of a mission statement, confined to a few sentences on a scrap of paper, encapsulating the qualities the logo should represent. His card for the Wolves read:

With fierce determination we will defend, and we will devour. We will be smarter. We will be stronger. We will be together. We will be … a Pack."
The team will unveil new uniforms and a new court design for the 2017-18 season as well. Hopefully the new look will lead to a new product on the court and the long-cold winter that Minnesota basketball fans have dealt with since Kevin Garnett left will be over.