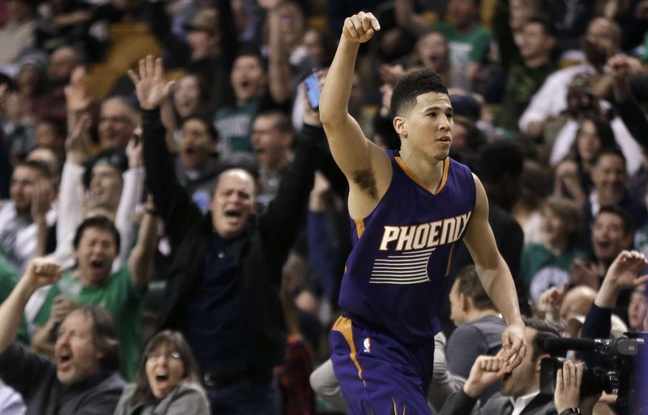 At the tender age of 20, Devin Booker has already established himself as one of the most intriguing prospects in the NBA and after his historic 70 point performance in Boston Friday night, he even further solidified himself as a future superstar in the making and maybe even sooner than originally thought.
Book it

70 points
8 rebounds
6 assists
3 steals

Take a bow, @DevinBook pic.twitter.com/cc6BMzA7Zo

— Bleacher Report (@BleacherReport) March 25, 2017
Interestingly enough, Booker's performance came one year and one day after his idol Kobe Bryant's final game in Phoenix, when Kobe presented Booker with a signed pair of shoes with the handwritten quote, "Be Legendary".
Kobe of course was the last player to score at least 70 points in an NBA game in 2006, and Booker joins some pretty lofty company as just the sixth player in NBA history to reach the feat, joining Kobe, Wilt Chamberlain, David Thompson, David Robinson and Elgin Baylor.
All of which are hall of famers, is Devin Booker on the same track?
Booker already has scored more points under the age of 21 in NBA history other than Kevin Durant.
He clearly is an elite scorer with a feel for the game far beyond his years and the offensive skillet and killer mentality to be an absolute force as an elite scorer and go-to player for years.
He could potentially develop into Klay Thompson with Kobe's killer mentality and work ethic which would make him a top 10 guy and a franchise altering player in the making.
If you look a little deeper though you will see that he still needs to become a more efficient offensive player, shooting 42 percent from the field and 35 percent from three in his first two seasons. He is a negative defender, with a -2.6 box plus/minus defensive rating for his career.
Booker has the tools, desire, temperament, internal confidence, development curve ability and opportunity to become the kind of player to return the Suns to the prominence of the Steve Nash era.
Don't let the 70 point game fool you too much though, his true superstardom is still a work in progress.
I, for one, am willing to bet that Booker will find a way to become the hall of fame caliber player the Suns hope he will be, just like his historic performance Friday night would indicate.