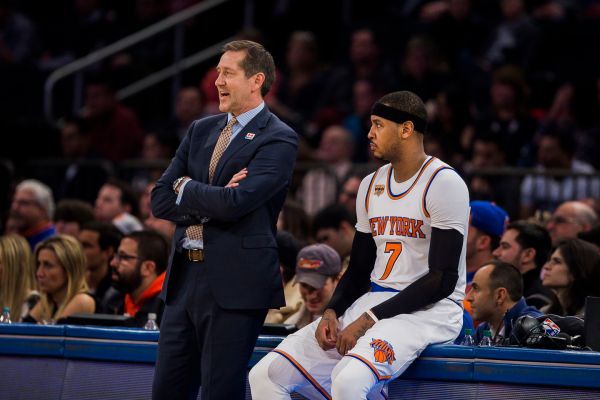 The triangle isn't going anywhere.
Prior to the New York Knicks' Wednesday night loss to the Utah Jazz, head coach Jeff Hornacek said that the team will be all triangle everything next season, and they'll look to ditch anyone and everyone who isn't buying in. Per Newsday's Al Iannazzone:
Jeff Hornacek made it clear that the Knicks will be running the triangle offense exclusively from the beginning of training camp next season, and they want players who fit the system and buy into it.

Hornacek also said he's unsure if a core of Carmelo Anthony, Derrick Rose and Kristaps Porzingis can be a playoff team unless they fully embrace the system.

"If we go into it like we did this year, no," Hornacek said before the Knicks faced the Jazz Wednesday night. "If we turned around and had a different way . . . maybe we start and go right at however we're going to run it next year, full triangle or whatever we're going to do, it's possible. You never know how those things will fit. Maybe a second year is helpful for us."
Phew. What a relief that the Knicks are talking about their offense. Again. For the jillionth time. It's not like their defense is 26th, tied with the Phoenix Suns, in points allowed per 100 possessions or anything. Their offense is clearly the problem.
Hornacek has a point about the mixed messages. The Knicks need to be full triangle, half-triangle, quarter-triangle or whatever, and then stick with it. That would have allowed for some consistency.
But offense isn't the problem with this squad. There is no one issue, but among the biggest, scoring points doesn't rank in the top five. The Knicks aren't efficient, but they're good enough on the more glamorous end.
It's their defense that's a crap show. And yet, they continue to peddle the triangle offense as some solution to that, too. Sure. Right. Whatever.
It's painfully funny that the Knicks refuse to embrace an offense accentuating the strengths of their players. Their refusal to acknowledge they have a defensive problem first and foremost, though, is outright alarming. It helps with the tank now, but it doesn't bode well for the future.