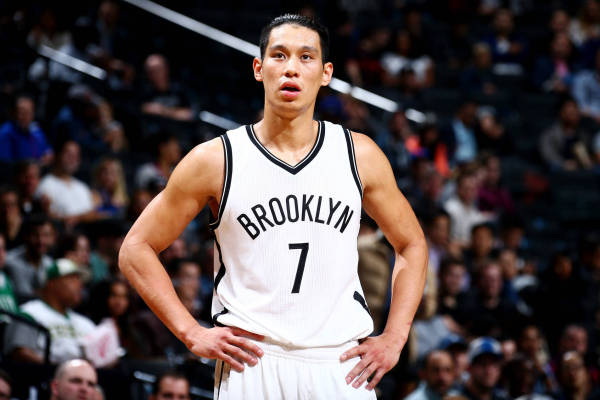 Jeremy Lin had some good news about the state of his left hamstring ahead of the Brooklyn Nets' Monday night loss to the Utah Jazz: This injury isn't as severe as his previous hamstring issue that sidelined him for 17 games earlier in the season.
He also had some bad news: He doesn't know when he'll be returning to the rotation.
From the New York Post's Brian Lewis:
Jeremy Lin spoke for the first time since suffering his second hamstring injury of the season, saying it's less severe and improving faster than his first. But he still wouldn't offer a timetable and admitted it's been difficult and felt like a maddening case of déjà vu.

"It does feel like kind of Groundhog Day, this thing all over again, or the rehab days all over again,'' Lin said

…

The Nets have said this hamstring injury being in a different spot is a positive.

"Yeah, I can definitely say that. It's a different area, the other side, and it hurt a lot less when it happened,'' Lin said. "Everything's progressing better than the previous one, so I'm definitely very encouraged. Yeah, definitely if it was the same exact spot, it'd be a different tune."

While Lin said he didn't have any idea what grade the strain was, he did emphasize this injury "is progressing much faster" than the first, and added he's already started shooting.
While the latest update is doused in silver linings, the Nets could certainly use a healthy Lin. They own the NBA's worst record, and their offense ranks 27th in points scored per 100 possessions, according to NBA.com.
At times, it looks like their offense could be set without Lin. Sean Kilpatrick can act as a primary facilitator, and Isaiah Whitehead, while a  work in progress, looks more comfortable with the ball in his hands. The Nets also lead the league in wide-open field goal attempts, per NBA.com; they're just shooting 39.7 percent on those looks.
But the Nets are a slightly more polished team when Lin is on the floor. He brings experience on offense, and is a tad more schooled in defending NBA pick-and-rolls than Kilpatrick or Whitehead.
Brooklyn has been mostly watchable this season thanks to its ball movement and nightly effort levels, and that's with Lin missing most of the year. The thought of what the team might be able to do with him, perhaps as a late-season spoiler, is something to be excited about and long for.