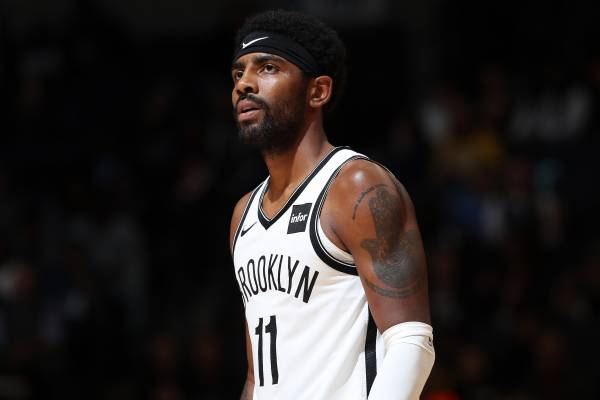 According to ESPN, Kyrie Irving's occasional "mood swings" have created unease among Brooklyn Nets officials.
These infamous mood swings, confirmed by his ex-teammates, have followed him from Cleveland to Boston to Brooklyn. When he gets into these funks, he often shuts down, unwilling to communicate with the coaching staff, front office and sometimes, even his teammates.
These mood swings were highlighted during an incident in China, where Irving was uncooperative during a team photo shoot. Kyrie refused to take off his hat, insisting it instead be digitally edited out of the picture. Another time he refused to participate in a team initiative involving the collection of biometric data through wearable technology.
But Kevin Durant defended his new teammate:
"I look at Kyrie as somebody who is an artist," Durant said. "You have to leave him alone. You know what he'll bring to the table every night because he cares so much about the game.

"Now, it might not be how other people want him to care about it. He has his way of doing things. I respect who he is and what he does. He has all the intangibles you want in a teammate and a great player. So, how he gets to the point to be ready for 7:30 every night, I'm supporting him 100%."
Despite these "episodes" many of Irving's teammates have benefited from his presence and his leadership. Irving is also off to an incredible start averaging 37.7 points, 6.3 assists and 5.7 rebounds per game through his first three games.