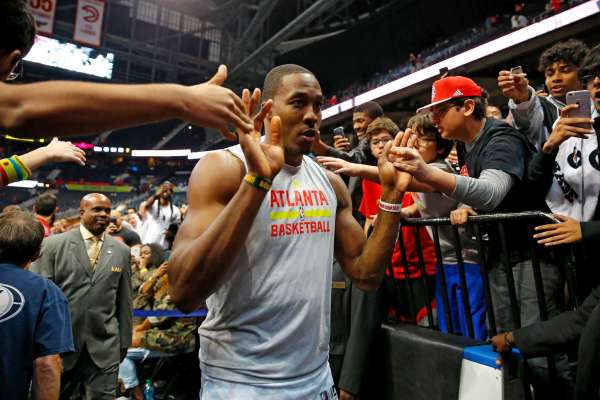 UPDATE: It is safe to stay that Dwight Howard enjoys playing for the Atlanta Hawks, the fourth team he has represented in his NBA career.
Howard communicated as much following the Hawks' Saturday night beatdown of the Philadelphia 76ers, complimenting Atlanta's training staff and coaching staff and everything in between, per Chris Vivlamore of the Atlanta Journal-Constitution:
"It's the best," Howard said. "It's the best. So grateful to be in this situation. They've done an amazing job, the training staff, the coaching staff. Bud has done an amazing job. We have a growing relationship that has been great so far. We are really understanding each other. And it's good. I love having him as a coach. From the first time I met him until now, we've had a great connection. We want to continue that. I love how he holds me accountable every single day to be the guy for the team to lead them in the right direction. When I'm not doing the right things, he is on me. When I am doing the right things, he pushes me to do more. It's just a great feeling."
Howard certainly looks more comfortable with the Hawks. It wasn't that he was bad with the Houston Rockets or Los Angeles Lakers. He most definitely wasn't this healthy, which certainly contributes to his uptick in happiness, but he also looked uncomfortable and out of place. The Rockets marginalized his role a great deal last season, and the 2012-13 Lakers never got him to fully buy into their style of play.
Things are different with the Hawks. Howard's usage rate has jumped by three points on offense, and he's now headlining the second-best defense in the NBA. The additional attention he's getting on offense is visibly impacting his effort on the defensive end, not only as a shot-blocker and help defender, but his ability to transform the Hawks' presence on the defensive glass.
Everything is just working right now. It seems like his transition has been seamless, as if his arrival in Atlanta was overdue. We'll have to see if this level of play and appeasement lasts all season, but, right now, it's safe to say Howard has found himself a home—ironically in his old home, in Atlanta, where he was born and attended high school