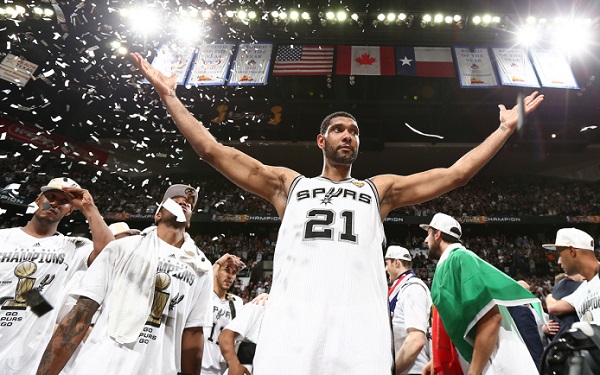 July 11, 2016 is a day that will forever be significant in NBA history. It is when one of the greatest players in the history of the game officially decided to hang them up and end his 19 year NBA career.
Tim Duncan is as synonymous with the Spurs as any player with any professional sports franchise has ever been. He has been the rock, the backbone and the leader of the Spurs franchise for the past 19 years. It is the longest stretch for an NBA team in the history of the league. He won 50 games in all of his 19 seasons, 5 NBA championships and served as the model organization of the league through the duration of that time period.
Duncan, unlike some of his elite counter parts (cough, Kobe) gracefully transitioned from the leading role to a supplementary role and did whatever was asked of him on and off the court (pay cuts) to help his team stay at or near the top of the league. A place they have inhabited since Seinfeld was still on the air.
Duncan has been the most attention-deflecting, ego-shunning superstar the league has ever seen and went about his business the past 19 seasons without ever needing his ego stroked by the media or fans. Instead he opted to stay out of the limelight as much as possible for a player of his pedigree and go to work everyday with one purpose: winning.
The Big Fundamental may not have had the flash of a Kobe Bryant, passion of a Kevin Garnett, style of a Dirk Nowitzki or power of a Shaquille O'Neal, but he had more substance than each and every one of them.
So where does he rank among the game's greatest players? Let's take a look at the tale of the tape:
Career Stats: PPG: 19.0 REB: 10.8 AST: 3.0 BLK: 2.2 FG% 50.6 FT% 69.6
Advanced Stats: PER: 24.2 TS%: 55.1 OBPM: 1.5 DBPM: 4.0
Career Ranks:
Games Played: 7th
Playoff Games Played: 2nd
Minutes Played: 10th
Regular Season Wins: 1,002 3rd in NBA history
Playoff Wins: 157 2nd in NBA history
Rebounds: 6th
Blocks: 6th
Points: 14th
Career PER: 13th
Offensive Win Shares: 21st
Defensive Win Shares: 2nd
Offensive Plus/Minus 11th
Defensive Plus/Minus: 7th
Value Over Replacement Player: 6th
Career Accomplishments:
-5 NBA Championships
-6 NBA Finals Appearances
-2 Regular Season MVP Awards
-3 NBA Finals MVP Awards
-11 All-NBA 1st Team Appearances
-15 All-NBA Appearances
-8 All-NBA 1st Team Defense Appearances
-14 All-NBA Defensive Appearances
15 All-Star Game Appearances
Rookie of the Year 1997-98 season
Duncan is tied with Kobe Bryant and Kareem Abdul-Jabbar with the most All-NBA appearances in NBA history, 15. He is one of only five players in NBA history with 3 NBA Finals MVP awards (Jordan, LeBron, Magic, Shaq), only Michael Jordan has more. He is one of only 13 players with multiple NBA MVP awards.
The only players in NBA history by estimation that have more NBA titles as the "Alpha Dog" of their team in NBA history than Tim Duncan's four (99′, 03′, 05′, 07′) are Michael Jordan and Bill Russell.
I have devised a new cumulative statistic to measure a players greatness that combines championships, NBA Finals appearances, regular season and NBA Finals MVP awards, All-NBA appearances and All-Star appearances called CAMA (Championships, All-NBA, Most Valuable, All-Star):
Here are the top CAMA scores in NBA history:
Kareem Abdul-Jabbar: 57
Michael Jordan: 48
Kobe Bryant: 48
Tim Duncan: 46
Magic Johnson: 43
Shaquille O'Neal: 43
LeBron James: 41
Larry Bird: 35
Wilt Chamberlain: 35
I didn't include Bill Russell on this list because some of these awards or nominations didn't exist for part or all of his NBA career.
In my estimation as of the day of his retirement, Duncan is the greatest power forward of all-time and has the greatest career the league has seen since Michael Jordan. He may not possess the God-given talent of a LeBron James, Shaquille O'Neal or Kobe Bryant, but he has accomplished more than all three of them with LeBron still having a third of his career to try and top one of his biggest rivals.
So after evaluating Tim Duncan's career thoroughly and in comparison to the other greats in NBA history, when you consider his longevity, accomplishments, unselfishness and his team's unmatched consistent level of success over a 19 year period, I currently would rank Duncan as the 3rd greatest player in NBA history behind Michael Jordan and Kareem-Abdul Jabbar. You could argue Bill Russell should be ahead of Duncan as well as a winner of 11 NBA titles and 5 NBA MVP awards, but when you consider he played in a league featuring 8 teams and was the size of Thaddeus Young it is hard for me to rank him ahead of Duncan because I don't know if he would have matched Duncan's level of success in this era.
Tim Duncan never embraced the side of being a player of his pedigree that makes you a global superstar or phenomenon and his private and subdued nature playing in an unassuming market like San Antonio meant that he never truly received the attention or admiration that he deserved.
Instead of a whirlwind retirement tour to soak up the love and respect of fans across the country and world and his peers, Duncan instead opted to announce his retirement in a private and subdued manner to the organization that he had given his blood, sweat and tears to for the past 19 seasons.
Tim Duncan gave everything he had to the game of basketball and rose to heights few have ever reached in his profession, and he did it all his way with the respect and admiration of all that crossed his path during his journey. There may be no better compliment you could pay a man.