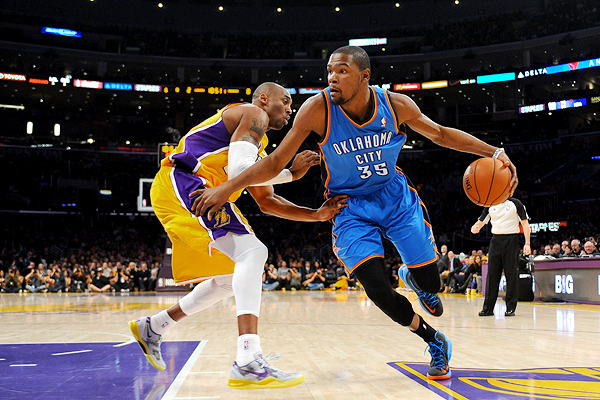 If Kevin Durant needs some outside direction this summer, as he prepares for his first foray into unrestricted free agency, Kobe Bryant has him covered.
The now-retired Black Mamba spoke with Alysha Tsuji of For The Win and gave some predictably diplomatic advice when asked about Durant's journey into the open market:
FTW: You spent your whole career with the Lakers, Kevin Durant is facing free agency, do you have any advice for him on how he should approach that decision?

KB: Yeah, I mean, you know, you've just got to look at it holistically. What does he want out of his career, what opportunities present themselves, even I — when I was a free agent — I did my due diligence, I looked at every opportunity and I left no stone unturned, so you have to vet those things. I was just very fortunate things worked out for me in Los Angeles, but he certainly needs to look at every opportunity and make the right decision for himself — keeping in mind his fan base in Oklahoma, as well.
This is a pretty standard answer. We should all expect Durant to do his due diligence. That's part of being a ringless superstar on the free-agent market. You need to scour the landscape, seeing if there is a situation out there that, should you choose to leave your current digs, can better position you to win a title.
Few, if any, people actually expect Durant to leave the Oklahoma City Thunder this summer. The popular theory has him signing a one-plus-one deal that would allow him to re-explore the open market in 2017, when teammates Serge Ibaka and Russell Westbrook are also slated for free agency.
And if that's the route he chooses, Durant can bet Kobe Bryant will have some more advice for him then.
It will be the same advice, filled with all the necessary cliches, but hey, advice is advice.