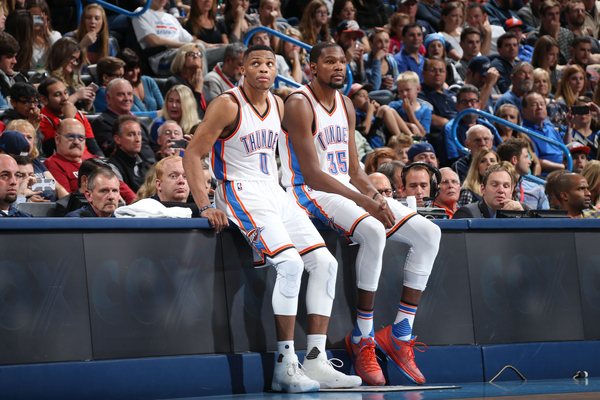 Kevin Durant has an important decision to make this offseason.
Russell Westbrook may or may not play a role in shaping it.
Per Anthony Slater of The Oklahoman:
Kevin Durant on whether he'll consult with Russell Westbrook during the free agency process: pic.twitter.com/zi1rPArlKG

— Anthony Slater (@anthonyVslater) June 1, 2016
You have to appreciate Durant's candor. He isn't always like this with the media. It's almost surprising that he would deliver such an honest answer this soon after the Oklahoma City Thunder were eliminated from the Western Conference Finals by the Golden State Warriors.
Westbrook, of course, will factor into Durant's decision. They have been teammates for eight years. They form one of, if not the absolute best one-two punch in the NBA.
Plus, Westbrook will be a free agent himself next summer. Though most assume Kevin Durant will sign a one-plus-one deal with the Oklahoma City, his long-term decision-making factors directly into Westbrook's future with this team. If he isn't planning on sticking around, it becomes difficult for Durant to stay put.
But free agency is about doing what's best for yourself as a player and person. And while Westbrook's future with the Thunder matters, Kevin Durant needn't base his decision off something his teammate does or doesn't say.
What he does next, whatever it may be, will be for him. And, relative to NBA circles, he has earned that right.