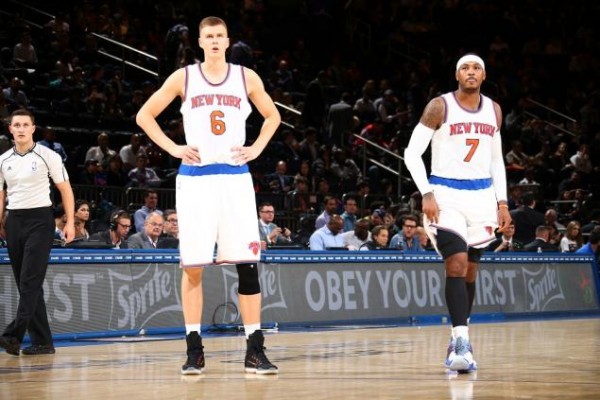 Carmelo Anthony and Phil Jackson aren't shy about complimenting the New York Knicks' frontcourt.
In fact, they believe the combination of Robin Lopez, Kristaps Porzingis and Melo himself make it the best frontcourt in the Eastern Conference.
Per ESPN.com's Ian Begley:
Both Phil Jackson and Carmelo Anthony believe that the Knicks have the best front court in the Eastern Conference. Jackson said as much in an interview Monday with WNBC. "In our meeting at the end of the season, Carmelo said, 'really (the Knicks' situation is) not that bad. I think we have the best front line guys in the game, in the Eastern Conference, in Robin (Lopez), myself and Kristaps (Porzingis),'" Jackson said. "And I have to agree with him. Yes, those are three real potent figures…. So we have some positions to fill , but not a lot. Not that many." With the front court set, Jackson & Knicks will look to upgrade the backcourt this offseason via trade or free agency.
This is a fair, if hyperbolic, point from both Jackson and Melo.
The Knicks do not have the best frontcourt in the East, of course. Maybe they will next season, but LeBron James, a healthy Kevin Love and Tristan Thompson probably own that title in the East. If Al Horford stays in Atlanta, he and Paul Millsap instantly vault the Hawks into that conversation as well.
But the Knicks do, however, have a great frontcourt foundation in place. They can sell free agents on Melo's superstar status and commitment to New York, Lopez's contract being a bargain under the new salary cap and Porzingis' megastar potential.
That's not a terrible position to be in by any means.
These Knicks specifically have found themselves in much worse.