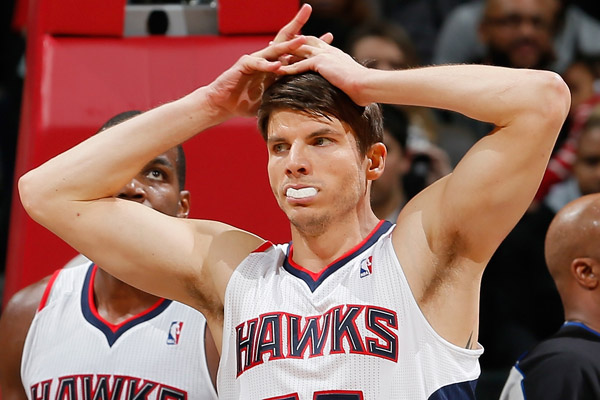 It took six games of mostly ugly basketball, but the Atlanta Hawks did it: They eliminated the shorthanded Boston Celtics and are advancing through to the second round of the playoffs, where the Cleveland Cavaliers await.
The same Cleveland Cavaliers that swept them in the Eastern Conference Finals last year?
Those same ones.
Only healthier.
And, therefore, scarier.
But the Hawks aren't fazed. To the contrary, they're more confident in their ability to beat Cleveland than they were last year. Well that, or it's just Kyle Korver who is displaying that confidence, per Chris Vivlamore of the Atlanta Journal Constitution:
Kyle Korver: "I think we are a better team than last year. I really do."

— Chris Vivlamore (@CVivlamoreAJC) April 29, 2016
Korver's reasoning? Defense:
More Korver: "Our identity is more on the defensive end than the offensive end this year."

— Chris Vivlamore (@CVivlamoreAJC) April 29, 2016
No qualms here. The Hawks were the second best defensive team in the NBA during the regular season, behind only the San Antonio Spurs, and they rank third in points allowed per 100 possessions for the playoffs, according to NBA.com. They are most definitely more reliant on the less glamorous side of the ball. Korver's dip in three-point accuracy is just one of the many reasons why.
One of the other reasons presumably has to do with the Cavaliers. No team in the NBA, save for maybe a healthy Golden State Warriors squad, is going to beat them going point for point. You're better off dictating the entire terms of play, from pace to lineup style.
The Hawks are now built to do just that. Their offense isn't as efficient, but their defense is a collectively swarming terror. And while that doesn't mean they'll beat the Cavaliers, their suffocating style of play is more likely to stand up against Cleveland than last year's offense-centric attack.