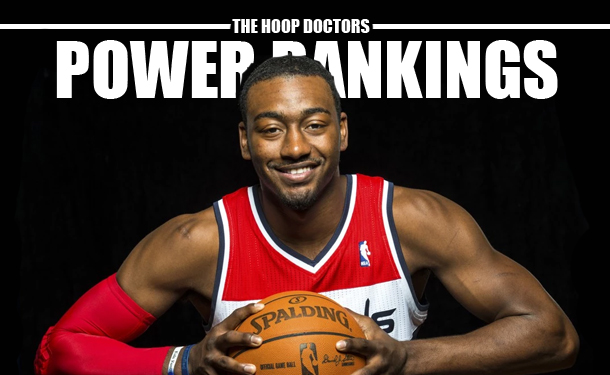 It has finally happened: There is movement within the top-most part of our NBA power rankings.
The Golden State Warriors and San Antonio Spurs still sit where they sit, and the Toronto Raptors refuse to relinquish fifth place. But chaos has been restored just about everywhere else, in large part because the Atlanta Hawks, Charlotte Hornets and Washington Wizards are going streaking, while the Dallas Mavericks, Houston Rockets, Portland Trail Blazers and, to some degree, the Los Angeles Clippers are immersing themselves in untimely slumps.
The Oklahoma City Thunder, meanwhile, are kind-of-sort-of learning how to close out games. The Cleveland Cavaliers are winning, then losing, only to win again, but in the least fun way imaginable. The Sacramento Kings and New York Knicks are still the NBA's foremost tire fires, and the Memphis Grizzlies continue to tread water like only the Memphis Grizzlies can.
As an inside, injuries are afoot. Jodie Meeks won't be returning to the Detroit Pistons, who remain on the outskirts of the Eastern Conference playoff bubble, this season. Chandler Parsons might be done for the year in Dallas after suffering a torn meniscus in his right knee. Anthony Davis is unequivocally done for the year as he rehabs a variety of bumps and bruises and torn labrums that didn't receive correct treatment for three years.
Get it? Got it? Good.
Let's power rank.
***For a week by week list of all our NBA Power Rankings this season, please visit this page.
NBA Power Rankings
| | |
| --- | --- |
| 1 | |

Golden State Warriors

Did the Warriors lose to the Spurs? Yes, but they've also beat them before, and these power rankings, while rooted in recency can't be too impulsive. For the Spurs to really pass the Warriors, they'll have to beat them at least once more this season.

Last Week (1)

| | |
| --- | --- |
| 2 | |

San Antonio Spurs

What the Warriors box said, with the additive of acknowledging San Antonio is closer to Golden State than any of us realized or initially appreciated.

Last Week (2)

| | |
| --- | --- |
| 3 | |

Oklahoma City Thunder

I'm 99.99999999% certain that I couldn't replicate Russell Westbrook's production in NBA 2K even if I tried.

Last Week (4)

| | |
| --- | --- |
| 4 | |

Cleveland Cavaliers

Someone needs to find LeBron James' fun gene. It appears to be missing. Oh, also, the Cavaliers' defense needs a reality check.

| | |
| --- | --- |
| 5 | |

Toronto Raptors

Imagine, for a second, that the Raptors snare the East's one seed. They'll probably still lose to Cleveland in the Eastern Conference Finals, if not before then, because, well, LeBron. But if they get first place and make an ECF bid, think about how much more difficult Masai Ujiri's offseason approach becomes, with Bismack Biyombo, DeMar DeRozan and Luis Scola all tracking toward free agency. This is a good problem to potentially have, but it's a problem all the same.

Last Week (5)

| | |
| --- | --- |
| 6 | |

Miami Heat

Who has a better offense than the Heat since they acquired Joe Johnson? Nobody. Seriously.

Last Week (8)

| | |
| --- | --- |
| 7 | |

Atlanta Hawks

There are few signs of an offensive resurgence in Atlanta, but that hardly matters. The Hawks have the second-best defense in the league and are regaining some of last season's contender mojo.

Last Week (9)

| | |
| --- | --- |
| 8 | |

Boston Celtics

Even without Jae Crowder, the Celtics are impressive, albeit slightly less so. It makes you excited/scared for what'll happen once Crowder returns from his high ankle sprain.

Last Week (7)

| | |
| --- | --- |
| 9 | |

Charlotte Hornets

In the month of March, the Hornets rank eighth in offensive efficiency, fifth in defensive efficiency and fourth in net rating. They've also beaten the Spurs. Now that's a month.

Last Week (10)

| | |
| --- | --- |
| 10 | |

Los Angeles Clippers

Let's start a pool: Will Blake Griffin return before the playoffs or no?

Last Week (6)

| | |
| --- | --- |
| 11 | |

Indiana Pacers

The Pacers offense is the J.R. Smith of point-piling machines: streaky and maddening, with a dash of crazy.

Last Week (11)

| | |
| --- | --- |
| 12 | |

Detroit Pistons

Detroit really needs Chicago to start losing games, otherwise its winning streaks will be going to waste.

Last Week (13)

| | |
| --- | --- |
| 13 | |

Washington Wizards

Why, hello, Wizards. Washington has won five in a row and, while the offense is in shambles, has the third-best defense for the month of March.

Last Week (17)

| | |
| --- | --- |
| 14 | |

Utah Jazz

Utah's defense is getting stronger. It's offense, however, consists of too much Shelvin Mack.

Last Week (15)

| | |
| --- | --- |
| 15 | |

Portland Trail Blazers

Our favorite Cinderella story is cooling fast. That said, the Blazers are still terrors at home, and you shouldn't envy the Thunder if Portland grabs the West's six seed.

Last Week (12)

| | |
| --- | --- |
| 16 | |

Chicago Bulls

Winners of their last three, as well as four of the five games since Jimmy Butler returned, the Bulls have an opportunity to separate themselves from the East's fringe playoff pack with a home-and-home against the crappy Knicks.

Last Week (18)

| | |
| --- | --- |
| 17 | |

Houston Rockets

Though you should already know this, Houston's defense is not even close to okay.

| | |
| --- | --- |
| 18 | |

Dallas Mavericks

Chandler Parsons might be done for the season, news that accompanies Dallas' ongoing fall through the West standings. There's a chance—a real, legitimate chance—they miss the postseason.

Last Week (16)

| | |
| --- | --- |
| 19 | |

Memphis Grizzlies

The Memphis Grizzlies: Treading water since the dawn of time.

Last Week (19)

| | |
| --- | --- |
| 20 | |

Milwaukee Bucks

Try envisioning what the Bucks would look like if Point Giannis Antetokounmpo could shoot, or if the Bucks had more shooters to surround him with.

Now go change your pants.

Last Week (20)

| | |
| --- | --- |
| 21 | |

Denver Nuggets

At what point do we start concerning ourselves with Emmanuel Mudiay's historically bad efficiency? Probably when Nikola Jokic and Will Barton stop playing so damn good.

Last Week (22)

| | |
| --- | --- |
| 22 | |

Orlando Magic

This cannot be stressed enough: The Magic need to consolidate some of their assets into a high-end impact player. They're still rebuilding, but with Victor Oladipo eligible for an extension this summer, Orlando cannot afford to, once again, reinvest in its underwhelming nucleus.

Last Week (21)

| | |
| --- | --- |
| 23 | |

New York Knicks

Kurt Rambis' use of Kristaps Porzingis makes me want to vomit.

Last Week (23)

| | |
| --- | --- |
| 24 | |

Minnesota Timberwolves

Karl-Anthony Towns is a freaking machine. Stamina is still on the fritz, but that's to be expected. Dude is alreadya star and, along with Porzingis and perhaps a healthy Anthony Davis, will become the face for the future of big men.

Last Week (25)

| | |
| --- | --- |
| 25 | |

Sacramento Kings

Sacramento's offseason is going to be lit.

Last Week (24)

| | |
| --- | --- |
| 26 | |

New Orleans Pelicans

No more AD for the Pellies, who, with 12 games left to play, have a chance for top-five lottery odds.

Last Week (26)

| | |
| --- | --- |
| 27 | |

Phoenix Suns

Devin Booker is pretty much what Klay Thompson would be like if he could play point guard—which is beyond terrifying.

Last Week (28)

| | |
| --- | --- |
| 28 | |

Brooklyn Nets

Rondae Hollis-Jefferson is back! Everybody dance.

Last Week (27)

| | |
| --- | --- |
| 29 | |

Los Angeles Lakers

There are moments when D'Angelo Russell looks like the All-Defensive Team version of Manu Ginobili.

Last Week (29)

| | |
| --- | --- |
| 30 | |

Philadelphia 76ers

Random thought: If the Sixers win the lottery, do they take Ben Simmons, who is best suited at the 4, thus complicating their logjam of Joel Embiid, Jahlil Okafor, Nerlens Noel and Dario Saric? Or do they roll with Brandon Ingram, a small forward who, at 6'9″, might be better off at the 4 long term anyway? Decisions, decisions.

Last Week (30)